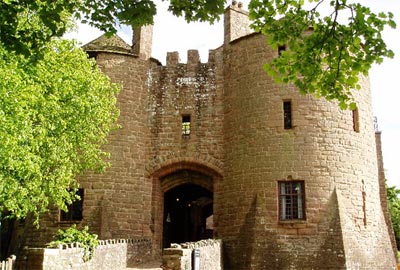 We regularly spend Christmas self-catering at a youth hostel – there are just too many of us to fit in anyone's house any more. Did you know you could hire an entire youth hostel?
Not all of them, and not all year, but there are some magnificent places to stay—we loved Eskdale—and if you're a big group, it's a reasonably cheap way to get together, as long as you're not expecting 5* accommodation.
Plus the self-catering aspect makes it much easier to manage a combination of diets.
Of course, you can stay at a youth hostel as an individual, and self-catering is certainly an option. But if you were thinking about going catered, how well does a hostel cope with special diets?
Over the summer, coeliac daughter spent a week volunteering in a youth hostel, where she worked in a team of people she didn't know (to start with) painting a mural for the walls – a timeline of St Briavel's Castle.
It's a lovely hostel, based in one of King John's hunting lodges, and they coped magnificently with her special diet, providing her with delicious evening meals (including, apparently, a medieval banquet one evening), good breakfasts, and even a packed lunch each day including a gluten free sandwich in a box, made with the filling of her choice each day (you know how much we love sandwiches in a box) and a wrapped gluten free cake.
Her first text home at the end of the first day says:
"they have good gf here, sandwich, crisps, brownie, victoria cake for lunch, pasta and garlic bread for tea!"
Pasta and garlic bread… just like everybody else. That's exactly what I want for her: to be able to eat something alongside others and for it not to be a big deal.
Yay for the staff at YHA St Briavels!
(image of St Briavels Castle is ©Bob Tinley and licensed for reuse under Creative Commons)
| | | |
| --- | --- | --- |
| | | I've written a book summarising what we've learnt over 20 years of dealing with the gluten free diet, and it might be just what you're looking for. It packs the lessons we've learned into what I hope is a helpful and straightforward guidebook. It's available on Amazon, as a paperback or for your Kindle… |