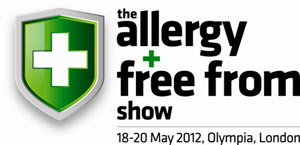 Are you going to London for the Allergy & Free From Show 2012? It's less than a fortnight away now, but if you don't have a ticket yet, you can still get a free ticket here.
We'll be there.
We went last year, and it was great. Exhausting, because it is such a big event, but really enjoyable. We talked to very many different manufacturers, and learnt a lot about new products and services. I just love to see the range of products available to us constantly increasing… and I am delighted by the choice now available!
But the best bit, for me, was when we took a break for lunch in the cafe, which was selling only gluten-free products. That was excellent in itself (and they were pre-packaged, so no risk of cross-contamination). But there was more…
We sat down to eat, and I tucked in to my gluten free houmous and red pepper sandwich, without realising that my teenage daughter didn't know how to open the triangular box to get at hers. Because she'd never, ever, eaten a sandwich that had been wrapped up and made available for sale before.
I'll write that again: she'd never eaten a bought gluten free sandwich before. Obviously she's eaten gluten free sandwiches all her life, but a year ago, we'd never seen one available for sale, still less one wrapped up in a triangular display box.
Such a little thing—a tiny thing—but it shows just how different her experience of life has been from that of most of her peers.
And she was thrilled. Here it is, a year later, and it still comes up in conversation occasionally. The time she had a sandwich like everybody else. And every single time I think about it, I feel a little weepy.
Thanks to Fresh! for that experience. And we're heading back down to London next week for another visit to the Allergy and Free From Show for more excitement. There'll be a lot going on, including:
try and buy – shopping for new products
free seminars
consultant dieticians
free-from cooking classes from Sainsburys
demonstrations
parent workshops
masterclasses for health professionals.
Will you be there? Or maybe you'd prefer Liverpool, in October? Either way, you can get your free tickets here.
Do come! There might even be sandwiches again…
| | | |
| --- | --- | --- |
| | | I've written a book summarising what we've learnt over 20 years of dealing with the gluten free diet, and it might be just what you're looking for. It packs the lessons we've learned into what I hope is a helpful and straightforward guidebook. It's available on Amazon, as a paperback or for your Kindle… |