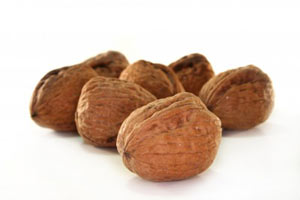 Sainsbury's have kindly shared this recipe for a gluten free nut roast with me – and given me permission to share it with you!
You may remember that I went to a FreeFrom Christmas dinner at Sainsbury's HQ recently; this was one of the vegetarian options, and is the invention of Mary from the Sainsbury's Try Team.
It's fabulous: moist and tasty. When you read the list of ingredients, you'll see why… I was amazed to discover that there is no bread at all in this nut roast.
Enjoy! (I plan to).
FreeFrom Nut Roast
Rediscover nut roast with this moist, light, tasty recipe, made without breadcrumbs. Nut roast is the classic vegetarian alternative to the roast dinner, but it doesn't end there. It's an excellent dish for entertaining and special occasions, with the added benefit that leftovers are delicious served cold or in sandwiches.
Serves: 4
Make and cook time: 30 minutes preparation plus 1 hour cooking time
85g nuts (eg Sainsbury's Taste the Difference Marcona almonds), chopped to the size of a pea
255g finely ground nuts (eg Sainsbury's ground almonds)
300g root vegetables, coarsely grated (eg parsnip, celeriac and carrot)
1 medium onion, very finely chopped
2 x 15ml spoonfuls vegetable oil
2 medium size eggs, beaten
½ x 5ml spoonful white pepper
1 x 5ml spoonful dried thyme
1 x 5ml spoonful salt
You will need: an 850ml capacity loaf tin, lined with non stick baking parchment
1. Preheat oven to 170'C/ Gas 3
2. Gently cook grated vegetables and onion with the oil, in a non stick pan until tender (10-15 mins).
3. Mix cooked vegetables together with all other ingredients. Press mixture into the prepared loaf tin.
4. […]