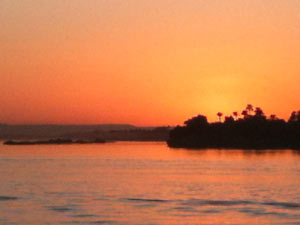 We're just back from a week in Luxor. That's Luxor, Egypt… and the gluten free member of the family managed just fine. And if we can, you can. Go for it!
Here's what we did:
we packed emergency supplies for the plane journeys, including snacks: but they weren't needed. We flew EgyptAir, and they provided a gluten free meal in both directions. The bread roll on the way out was branded Lifestyle, so we knew it was OK; however, the one on the way back looked identical to the 'normal' ones… she didn't eat it. Our taste-tester told us it tasted 'normal', not gluten free.

Tip: check everything – don't assume.

we packed Sainsbury's baguettes and rolls. These varieties need cooking and/or refreshing; we were self-catering, and I knew that the apartment would include a microwave/combi oven.

Tip: I split the bread-stuffs between the cases, in case one got lost en-route.

we packed snacks (rice cakes, gluten free biscuits, peanuts and raisins etc) in both our carry-on luggage and the suitcases.

Tip: chocolate will melt. Freeze an ice-cube-bag of water because it is flexible when frozen, and put the frozen bag inside a ziplock bag so everything stays dry (for the way out – and for the way back, if you can refreeze it and still need it).

we also packed a sachet of Helen's Bread Mix, so that if we ran out of Sainsbury's bread, we could make a loaf – which we did, reasonably successfully, in the microwave/combi oven. It did need refreshing daily, because of the heat.