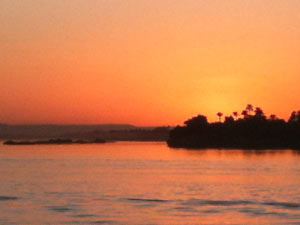 We're just back from a week in Luxor. That's Luxor, Egypt… and the gluten free member of the family managed just fine. And if we can, you can. Go for it!
Here's what we did:
we packed emergency supplies for the plane journeys, including snacks: but they weren't needed. We flew EgyptAir, and they provided a gluten free meal in both directions. The bread roll on the way out was branded Lifestyle, so we knew it was OK; however, the one on the way back looked identical to the 'normal' ones… she didn't eat it. Our taste-tester told us it tasted 'normal', not gluten free.

Tip: check everything – don't assume.

we packed Sainsbury's baguettes and rolls. These varieties need cooking and/or refreshing; we were self-catering, and I knew that the apartment would include a microwave/combi oven.

Tip: I split the bread-stuffs between the cases, in case one got lost en-route.

we packed snacks (rice cakes, gluten free biscuits, peanuts and raisins etc) in both our carry-on luggage and the suitcases.

Tip: chocolate will melt. Freeze an ice-cube-bag of water because it is flexible when frozen, and put the frozen bag inside a ziplock bag so everything stays dry (for the way out – and for the way back, if you can refreeze it and still need it).

we also packed a sachet of Helen's Bread Mix, so that if we ran out of Sainsbury's bread, we could make a loaf – which we did, reasonably successfully, in the microwave/combi oven. It did need refreshing daily, because of the heat.

Tip: pack a silicone loaf tin, as we did, because it is lightweight and squashy.

we packed a bag of gluten free pasta (in this case, Doves), in case we decided to eat in one night. In fact, we ate out most nights, and made a pasta salad one day.

Tip: we used only one portion from a bagful, so I suggest weighing it out into portions, and only take what you're likely to consume.

we took with us two versions of a coeliac card in Arabic, one downloaded from Celiac Travel and another from Gluten Free Jordan, and showed them repeatedly.

Tip: We got caught out once, when she was offered a cake made with semolina: basboosa. As you know, semolina is not gluten free – I guess that travel cards typically talk about wheat, and not semolina. Remember to check!
We usually self-cater, because we find it easier to manage a gluten free diet that way, but if you're staying at one of the big hotels, I'm sure they'd provide a gluten free diet too. When eating out, we ordered carefully, and discussed the ingredients (in English) whenever we were doubtful. Restaurant staff were typically very helpful, and eager to get things right for us. We also took our time in the local supermarket, and bought basic, unprocessed foodstuffs (meat, cheese, fruit, salad, yoghurts etc).
We stayed here (yes, the image above is of the Nile at sunset from the apartment complex), and had a wonderful time: tombs, temples, mummies, ballooning and boats, and above all warmth and sunshine.
If you're thinking about visiting Egypt, do it soon: Luxor was very quiet indeed. We think that people must be nervous of visiting Egypt because of the Arab Spring, but the local population relies on tourism, particularly independent tourists, as coach tours typically have a set route for everything, including restaurants and shops. The felucca captain who took us upstream for a tour of a banana plantation and shared riddles and mint tea on his boat (cooked over an open flame – slightly unnerving) told us that he hadn't had a tourist on board his felucca for 3 months…
It is possible to stay gluten free in Egypt. We've done it.
| | | |
| --- | --- | --- |
| | | I've written a book summarising what we've learnt over 20 years of dealing with the gluten free diet, and it might be just what you're looking for. It packs the lessons we've learned into what I hope is a helpful and straightforward guidebook. It's available on Amazon, as a paperback or for your Kindle… |