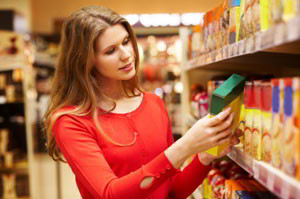 I was entertained to be told, last week at the free-from blogger dinner party held by Sainsburys, that one of their customers refers to the Free From aisle as "the library aisle". I think we all know why, as we check the labels carefully to see if there is something suitable to eat, or whether our choice will make us ill.
Today, as I visited the library aisle yet again, I was once more struggling with a lump in my throat.
They've launched their new Free From range, as promised at the blogger meal. Without fanfare, as far as I can see; certainly my local store wasn't making a big deal of it.
But why not? WHY NOT?
It is a big deal. It is a huge deal. The allocated shelf space must be twice as big, at least. About the same size as the pasta sauces shelving. Yes, that big! And there are a lot of new products, both Sainsburys own Free From brand and external brands, ranging from new breakfast cereal varieties, through cakes and biscuits to breads, and on to ready meals, sauces, mixes and cooking ingredients from stocks to cake decorations.
Choice. It's all about choice. The reason for the prickles in my eyes and the lump in my throat? That's because we're getting to the point where coeliacs can choose what to eat, and it's all good. Bread with bits? What kind of bits – seeds / onions / sundried tomatoes / rosemary? Brown bread? White bread? Buns? What size and shape do you want your buns? Baguettes? Pitta bread? Naan bread? Ciabatta? Focaccia?
Choice. Free From has grown up enormously over my daughter's 14-year lifetime. Bring on the next 5 years!
| | | |
| --- | --- | --- |
| | | I've written a book summarising what we've learnt over 20 years of dealing with the gluten free diet, and it might be just what you're looking for. It packs the lessons we've learned into what I hope is a helpful and straightforward guidebook. It's available on Amazon, as a paperback or for your Kindle… |