We went to Sainsburys this weekend to pick up – among other things – some gluten free pizza. Dietary Specials Pepperoni – my daughter's current favourite.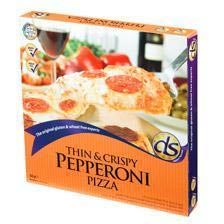 We found that the Free From frozen section had been moved. That's fine: it was still clearly marked up, and (as you know!) supermarkets are always rearranging things to shake us up and help us notice new things.
But there was still no sign of the pizza we'd come in for, and not even a label on the (fairly empty) shelves to show where it should be. Since this was the second visit we'd made to get some with no luck, I thought I'd ask.
Customer Services was, as always, very friendly, but didn't really know what had happened to the pizza. I was offered two explanations:
1. The Christmas stock was coming in.
Well, yes. I understand that Sainsburys make a lot of money over Christmas, and need different stock items. But it's a little hard on someone who has a restricted diet anyway to have it further limited because other people want a wider choice. Plus: the amount of freezer space dedicated to Free From was the same.
2. The product was marked as 'on hold', which, it was suggested, probably meant that it was being rebranded and marked up as being gluten free.
Hmm. A rebrand, possibly (in which case why were the margherita pizzas still available?). But 'being marked up as gluten free'? Nice try, but this is a dedicated gluten free product. It already says it is gluten free.
I wasn't offered the opportunity to put in a request slip to have it reordered.
Sainsburys once claimed to want to be 'the number one choice for customers with allergies or intolerances'. They still are, on the whole, our preferred supermarket for these products. But I'd like to know where the pizzas have gone.
Are you listening, Sainsburys?
| | | |
| --- | --- | --- |
| | | I've written a book summarising what we've learnt over 20 years of dealing with the gluten free diet, and it might be just what you're looking for. It packs the lessons we've learned into what I hope is a helpful and straightforward guidebook. It's available on Amazon, as a paperback or for your Kindle… |