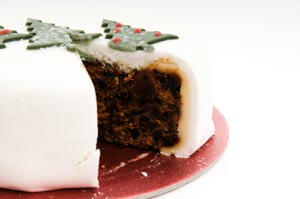 Another thing you should probably have already made: the Christmas Cake!
No, I haven't done it yet either. But when I do, I'll be using my tried and tested gluten free celebration cake.
Did I tell you this is now known in our family as Daddy-sat-on cake?
Not because he did sit on it – no, there was an accident in transit once (he dropped it) and it ended up looking … well, rather flat. The children, of course, thought this was hilarious, and so a family tradition was born.
(NO, not of dropping the cake OR sitting on it!)
Even after the now notorious floor incident, it it is a truly delicious fruitcake. Why look for a new recipe?
| | | |
| --- | --- | --- |
| | | I've written a book summarising what we've learnt over 20 years of dealing with the gluten free diet, and it might be just what you're looking for. It packs the lessons we've learned into what I hope is a helpful and straightforward guidebook. It's available on Amazon, as a paperback or for your Kindle… |