Slightly off my planned track today, but Christmas is all about being social, and dealing with the unexpected, yes?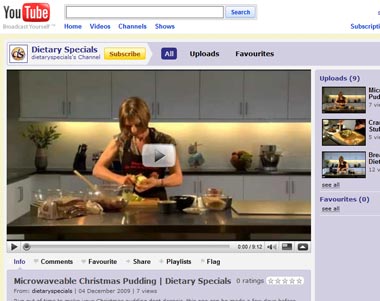 I received an email yesterday pointing out that Dietary Specials have a dedicated channel on YouTube, with Christmas recipe videos. What a good idea!
As I've said before, I do think that video can help, particularly if you're new to cooking gluten free.
How is that social? Well, living gluten free is a popular topic for the various social networks around, and I include YouTube as one of these, because of the facility to comment on the videos.
Facebook is perhaps the best known service (at least here in the UK), and I've become a fan of a couple of gluten free companies there, such as Cakeophony. If you're not a member of Facebook, you won't be able to see their Facebook page, but do look at the fab photos of cupcakes on their website. (Hi Naava!)
I've been meaning to ask whether any of you use Twitter much. I use it for work (where I'm @lucynixon) but I also have a Twitter account for this blog (@freefromblog) which I'm not using yet, though I want to. Leave your Twitter account in the comments and I'll follow you – then I'll get started…
Let's be sociable this Christmas!
If you're new to Twitter, it's easy to find people talking about living gluten free. Here are people talking about gluten free Christmas :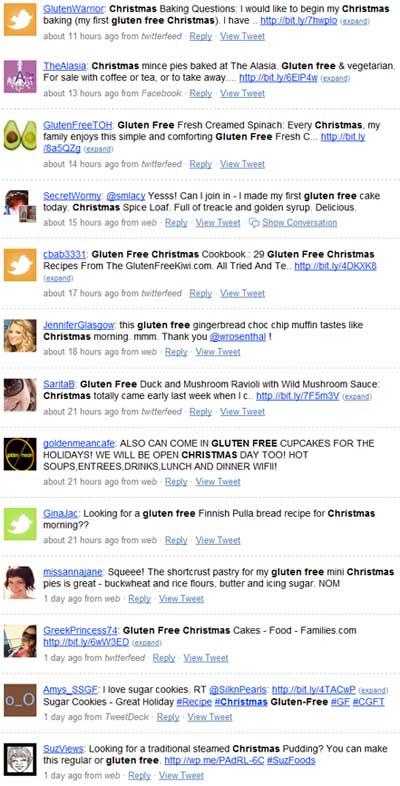 | | | |
| --- | --- | --- |
| | | I've written a book summarising what we've learnt over 20 years of dealing with the gluten free diet, and it might be just what you're looking for. It packs the lessons we've learned into what I hope is a helpful and straightforward guidebook. It's available on Amazon, as a paperback or for your Kindle… |