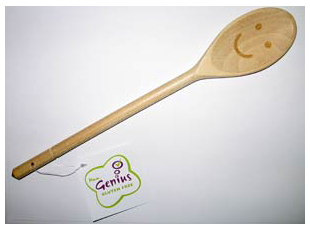 In the interests of full disclosure, I should let you know that I received this charming wooden spoon from Genius (who make one of the new gluten free breads), just before Christmas.
Isn't it fab? Doesn't it make you want to smile too?
I wasn't the only one to receive such a gift, though I don't know what the criteria were. I assumed it was because I've mentioned them a couple of times on this blog.
It seems to me that this is an ideal 'corporate gift' from a gluten free company to a customer or blogger in that it is:
small but surprising – it was unexpected, and the children and I laughed with delight when it arrived
low-priced, so I'm unlikely to be particularly swayed in my view of Genius, or embarrassed into supporting something I don't agree with
but with genuine value – in that we will use it, rather than it sit on my desk
and targeted to the recipient. As someone who cooks gluten free, I do need to bake and cook from scratch more than perhaps the average mother might.
All this matters, and Genius did well to bear all this in mind. Thank you!
| | | |
| --- | --- | --- |
| | | I've written a book summarising what we've learnt over 20 years of dealing with the gluten free diet, and it might be just what you're looking for. It packs the lessons we've learned into what I hope is a helpful and straightforward guidebook. It's available on Amazon, as a paperback or for your Kindle… |