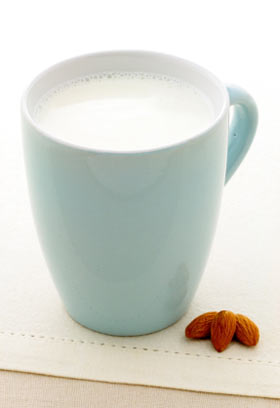 Do you have a preferred non-dairy milk?
Luckily, we don't need to be lactose-free in our house, though there was a little friend some years ago who was dairy-free, so I got used to using Pure to cook with, to having Swedish Glace dairy-free icecream in the freezer, and even soya milk occasionally. Though I'm not a fan of soya milk…
I was offered the chance to try some almond milks – Almond Breeze, from Blue Diamond – and since I love almonds (there's always an open packet here, for snacking on) I thought I'd say yes. They kindly sent me two: one 'original' and one 'unsweetened'.
Because I was hesitant about the 'sweetened' version (sweet milk?), I decided to try making yoghurt with it. I have a yoghurt maker, because we do get through a lot of yoghurt, and there are lots of recipes for almond milk yoghurt on the web… How hard can it be? I thought. Instead of using live yoghurt as a starter, which I'd usually use for 'normal' yoghurt, I bought some freeze-dried yoghurt starter, and I added a little extra sugar, so the culture would have something to eat.
Oh dear.
It went well for the first few hours, but overnight the yoghurt split and curdled, turning a rather unpleasant grey colour. I wasn't expecting it to be exactly the same – because almond milk just isn't the same colour as dairy milk – but this was a disaster.
Checking up on the Almond Breeze site, it does say 'don't make yoghurt'—and now I know why.
However, the unsweetened almond milk experiment worked very well.
It has a pleasant and extremely mild taste, and worked well in hot chocolate (the hot chocolate drinker in the house said it was 'awesome' – hmmm) and was surprisingly OK in tea: I thought it might taste a bit odd, but it really didn't.
We enjoyed it on cereals in the morning, and even in porridge (use gluten free oats, obviously – and only if you can tolerate them).
And today I made a medieval apple almond soup, from A Feast of Ice and Fire: The Official Game of Thrones Companion Cookbook
*… very nice. This is essentially apple puree, let down with almond milk and honey, with cinnamon sugar, saffron and salt. Very much a 'honey' taste, and again, very mild in flavour – and very autumnal, somehow. (How appropriate, if 'winter is coming'…)
A bonus is that Almond Breeze is not only lower in calories and carbs than cows milk, but also has just as much calcium, so if this is something that matters to you – and it should be – then you could switch without losing the calcium benefits.
Will we switch? Well, we don't need to be dairy-free, so probably not all the way—besides, I really like yoghurt—but next time I have a dairy-free visitor, I'll look for almond milk.
| | | |
| --- | --- | --- |
| | | I've written a book summarising what we've learnt over 20 years of dealing with the gluten free diet, and it might be just what you're looking for. It packs the lessons we've learned into what I hope is a helpful and straightforward guidebook. It's available on Amazon, as a paperback or for your Kindle… |