You may remember that I was sent a couple of boxes of these a while ago, to share and taste … here's what we made of them.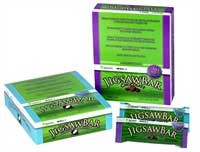 People who tasted these for me included coeliacs and non-coeliacs; the coeliacs came from my house, from my village (yes, my village of under 300 people has 4 coeliacs that I know of, and only one of them related to me), from the next county south, from Ireland and from Australia. Quite a collection!
The bars we were tasting came from Jigsaw, and come in two flavours: coconut and almond, and chocolate, and we had a mixed bag of views on these – as I suppose you'd expect.
We liked the fact that the bars are soft and chewy, rather than crunchy (very often 'health' bars require you to have very strong teeth).
We also liked the fact that they weren't too sweet. All too often, gluten free food is overloaded with sugar in an attempt to disguise the texture.
And several people said that they liked the taste, particularly of the coconut and almond bar. The chocolate bar has a dark chocolate taste, being quite high in cocoa flavour, and this might put some people off – others, of course, prefer dark chocolate.
However:
Some people didn't like the texture of the bars, saying that they were 'powdery' or 'dry' in consistency.
One person said that the chocolate one smells and tastes like a health bar (that wasn't a compliment, by the way).
And it should be pointed out that though the bars are loaded with vitamins, they are not vegetarian (I guess that's where the Omega 3 comes from – fish oil is said to be good for the brain).
Overall, people preferred the coconut and almond one, though a couple of people really enjoyed the chocolate one.
And there were mixed feelings on whether people would choose to buy these … some said that they wouldn't see them as a treat, but would eat them as a way of filling up; others thought they might buy them from a cafe with a coffee.
My son – not a coeliac – has been sneaking them into his school bag for break-time. So there's a strong vote in their favour from him!
Our Recommendation: a mixed response – why not try them to see what you think?
| | | |
| --- | --- | --- |
| | | I've written a book summarising what we've learnt over 20 years of dealing with the gluten free diet, and it might be just what you're looking for. It packs the lessons we've learned into what I hope is a helpful and straightforward guidebook. It's available on Amazon, as a paperback or for your Kindle… |