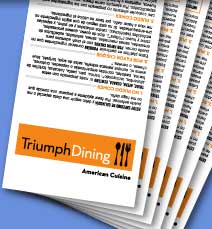 If you're in America, then this could be a very useful giveaway: Triumph Dining are offering free American Dining Cards until the end of August.
The concept of a card that you can show to the chef to explain your dietary issues isn't new, and I've talked before about the Multi-Lingual Phrase Passport book series.
I wasn't aware of these before, though, and they do look very useful.  There are cards available for 10 different cuisines: American, Chinese, French, Greek, Indian, Italian, Japanese, Mexican, Thai, and Vietnamese.  (It's the American ones that are available for free).
Each card is specific to its cuisine. For example, the Japanese card prohibits imitation crab, soy sauce, and tempura, while the Mexican card prohibits flour tortillas, and each covers the common and hidden sources of gluten. Did you know that:
the most common hidden source of gluten in Chinese food is soy sauce, in Thai food it's fish sauce, and in Indian food it's a spice called hing.
(I'd never even heard of hing, until I looked it up – I know it as asafoetida.)
And apparently the cards are also multi-lingual. Now that is useful.
The giveaway deal is exactly that – a free card. No doubt they're hoping that you'll then buy more. However, there's more. I quote:
The purpose of this give-away is to raise money for Celiac Disease Awareness. If we get 15,000 people to sign up for free dining cards, Triumph Dining will make a $10,000 donation in support of a national celiac disease awareness campaign. When we hit our goal, we'll ask you and the gluten free community to help us decide which non-profit(s) receives the donation.

We're trying to build awareness on two fronts: With 15,000 more dining cards on the street, we'll be educating more restaurants about the gluten free diet faster. And, with $10,000 funding behind a national campaign, we can diagnose and educate more Celiacs.
Sounds good, doesn't it? If you're interested, you can order your free dining card and find out more here.
Sadly, it looks as though you can't order from overseas, even if you were planning to visit the States and would find these useful. I wonder if they'd deliver to your hotel or apartment?
| | | |
| --- | --- | --- |
| | | I've written a book summarising what we've learnt over 20 years of dealing with the gluten free diet, and it might be just what you're looking for. It packs the lessons we've learned into what I hope is a helpful and straightforward guidebook. It's available on Amazon, as a paperback or for your Kindle… |