We were intrigued to see the new TigerTiger Snax in Sainsbury's this week, so we picked one up to try: Jasmine Rice with a Thai Green Curry sauce.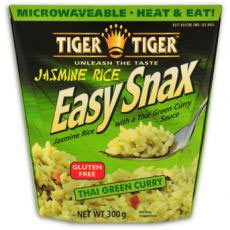 It's a good idea: one of the things we struggle with is finding a variety of quick and easy gluten free snack meals. And it's pretty much like I remember pot noodles to be – pour the sauce over the carbohydrate and heat – so, as she said, it takes about as long as it does to make nachos.
But I think we made a bad choice, and not only because it brought back pot noodle memories (pot noodles: something else my coeliac daughter has never experienced). We found the sauce to be thin, both literally and in taste terms – it was clearly spiced in a Thai green curry style, but had little depth to the taste underneath the warmth. Neither my daughter nor I wanted to finish the pot.
It's a bit of a disappointment, not only because we do like to find new gluten free products that she can enjoy, but because the TigerTiger site is very good. They have a huge range of products (many not gluten free, but still look delicious) and an ingredients glossary. There are a whole stash of recipes on there, which can be filtered so that you only see the gluten free recipes (or, only the gluten free, vegetarian, Indian recipes, for example). That is a wonderful thing. It would be nice to be able to filter the products too, so you needn't see all the other products, and it's a shame that the online shop no longer exists.
So: we won't be buying that Snax pot again – we're not going to like everything – but I will look out for TigerTiger products. If you try the Snax products, do let me know what you think…
| | | |
| --- | --- | --- |
| | | I've written a book summarising what we've learnt over 20 years of dealing with the gluten free diet, and it might be just what you're looking for. It packs the lessons we've learned into what I hope is a helpful and straightforward guidebook. It's available on Amazon, as a paperback or for your Kindle… |