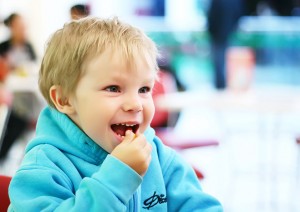 Running a PTA event, and wondering how to cater for the children with allergies in your group?
In my experience, parents of coeliac children (and no doubt those with other food allergies or intolerances too) tend to assume that there'll be nothing at an event that their child can safely eat, and to plan around that—either making sure that the child has eaten beforehand, or by bringing safe foods.
But I was contacted recently by a reader who wanted to offer something to these children at an event which she was organising in the summer, and that made me think about how you could go about doing just that.
Her idea was to offer manufacturers a stall at the event, so that they could promote their products, and visitors could try them out. This is a great idea. Options for this will depend on the scale of your event, but could include:
contacting the major manufacturers (here in the UK, these would typically be those companies that produce prescription goods, or the major supermarkets). This group would probably prefer to visit large events, or specific allergy-focused events, so that they can communicate with as many people as possible – but if you don't ask them, you won't know.
contacting local manufacturers and retailers, to see if they'd like to promote themselves and their products. It's good to support local businesses, and if, for instance, there's a local shop that offers allergy products, your visitors may not yet know about it, so you'd be helping out by putting them in touch with each other. This group may not have as much money to spend as the larger companies.
Other options of the do-it-yourself variety could include:
calling for volunteers from the parents. There may be someone who'd step up to help you out, and to help out their fellow allergy-parents (yes, I know that's not a word, but you know what I mean!). I ran a support group for gluten free children and their parents for a while, and found it very valuable. People have lots of information to share!
buying in some ready-made branded products to sell. I suggest that you either choose individually wrapped items or leave them in their packets, so that your visitors can read the labels to reassure themselves that this food would be safe. There are lots of options, but you could include:

individually wrapped portions of cheese, readily available at the supermarket. Here in the UK, these could be BabyBel, or portions of hard cheese such as cheddar. Don't go for soft cheeses unless you're prepared for mess!
biscuits – savoury or sweet, plain or chocolate. There's quite a variety available at supermarkets on the Free From shelves now.
crisps (check the packets very carefully)
cakes—again, there's a lot of variety on the supermarket Free From shelves. Don't over-buy: if the cakes aren't good, no-one will eat them and you'll have wasted money. These products are not cheap. At the moment we like the Tesco Free From sponge (cut it up small) and we love the Waitrose Love Life Millionaire Blondies.
nuts, raisins and other dried fruits are all gluten free, though be very careful of any with added flavourings
fresh fruits are all gluten free

if you want to offer hot food, then consider either buying some in, such as Domino's gluten free pizza, and cutting it up small (leave it in the box for reassurance) or keeping it very simple—perhaps baking potatoes and offering various fillings. I know that these are boring options: coeliacs are always offered baked potatoes. But they are reliable and safe, as long as your fillings are also safe.
Of course, what you're offering will depend on what everybody else is being offered. For instance, if you're having a hog roast, then the meat would be fine as long as it isn't coated in any way—watch out for those sauces and marinades—but you might want to have a stock of gluten free rolls on hand (well wrapped!) to offer to go with the meat. Chips (otherwise known as fries or frites) are fine as long as nothing else is or has been cooked in the oil, and the chips aren't coated in flour to make them crispy or flavoured.
Don't forget that if you're offering edible prizes, it can be very disappointing for a child to win sweets they can't eat. Could you check whether they're OK in advance, and only buy prizes that would suit everyone? Here in the UK, most Haribo and Swizzels Matlow sweets are gluten free (do check each type, though, and leave them in the wrappings), and cheap to buy as prizes.
Whatever you decide to do, I hope your event goes well. Although some people may decline to try your gluten free offerings, there will be some there who are delighted and grateful that you've thought of them. And inevitably, the non-gluten-free people will want to eat them too! Remember to keep some back for the truly gluten-free…
| | | |
| --- | --- | --- |
| | | I've written a book summarising what we've learnt over 20 years of dealing with the gluten free diet, and it might be just what you're looking for. It packs the lessons we've learned into what I hope is a helpful and straightforward guidebook. It's available on Amazon, as a paperback or for your Kindle… |