Have you ever wondered just how easy it would be to eat gluten free at a health spa?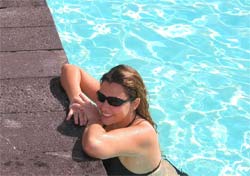 I'm just back from two days at Hoar Cross Hall, in north-west England, which is a health spa in a former stately home. Yes, lovely time thanks – the spa facilities are extraordinarily good. Darling husband bought me the voucher at a PTA auction, so clearly had to be the one to come with me, and we left our three children with a friend. Payback time is tonight – she's leaving her three children with me, while she and her husband go to the same place …
Back to living gluten free – it would be possible to be gluten free at Hoar Cross Hall, but not as easy as you might hope. Nor is it quite as easy to eat healthily as you might think – yes, I dare say I was greedy, but I did think the food was very rich and creamy.
Breakfasts involved fruit, yoghurt and the usual English cooked breakfasts – those who are gluten free would have to avoid the toast, pastries and sausages. I expect the staff would refresh gluten free bread on request. All the staff were very helpful and friendly.
Lunches were various hot dishes, about which you'd have to quiz the catering manager, cold salmon, salads and vegetables. None of the salads were marked up as to what would be acceptable – in fact, they weren't labelled at all. And most of the salads were dressed in mayonnaise – which ought to be OK, but again, it would be advisable to check. Puddings would have to be fruit, as the rest of the puddings were heavily gluten-based – crumbles, pies and cakes.
Snacks during the day could be fruit only – or a packet of nuts – as all the cakes and biscuits available at the cafe were gluten-based.
However, they do offer a gluten free menu for the evening meal. At the moment, this would be:
Appetisers

Asparagus wrapped in smoked salmon on crispy salad
Homemade vegetable consomme
Melon and port

Intermediate

Green salad topped with avocado or chef's choice of sorbets

Main Course (with seasonal vegetables, salad, potatoes)

Half a roast crispy duck with baked apple and gravy (thickened with cornflour)
Poached salmon with a champagne and cream sauce (thickened with cornflour)
Fillet steak with a Cafe de Paris butter
Some other items on the main menu might also be gluten free (for example, all the steaks are available without sauces) so it would be worth checking.
The gluten free menu doesn't indicate which puddings might be gluten free, so you'd have to check with the catering staff – but the sorbet we had would have been more than acceptable as a pudding, as it was lovely. Also, you need to order from this menu by 11am on the day on which you wish to eat – if it was your first day, you would have difficulty in requesting a gluten free menu. So mention it on booking your stay!
The other point I'd make about this menu is that there is no vegetarian option, so that if you are both vegetarian and gluten free, you'd have a problem.
However, Hoar Cross Hall should be given credit for offering a gluten free option at all, as so many places don't seem to have considered it, and they do seem to understand the requirements of a gluten free diet.
Incidentally, if you do go – make sure to have a drink in the Champagne Bar, which is the old library, and a lovely room.
| | | |
| --- | --- | --- |
| | | I've written a book summarising what we've learnt over 20 years of dealing with the gluten free diet, and it might be just what you're looking for. It packs the lessons we've learned into what I hope is a helpful and straightforward guidebook. It's available on Amazon, as a paperback or for your Kindle… |