Breakfast has become one of the meals we struggle with, despite having tried many breakfast ideas…
But there are new options available: new syrup pancakes from Sainsbury's for example; or teacakes from Warburton's and Genius (why only eat them at tea?).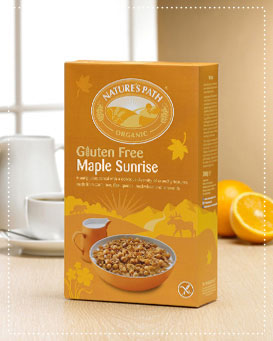 And Nature's Path kindly sent us two packs of cereal to try. I wasn't optimistic, as we've tried many cereals over the last decade and a half, and most end up as ingredients for crispie cakes.
Cereals are quite an individual taste. There are 5 of us in this house (only 1 coeliac) and we always have well over 5 packets of different cereals on the go, to please all palates. But rarely have we finished a pack of gluten free cereal (apart from Bakery on Main's versions, which I really like, though my coeliac daughter does not).
So I was very pleased to find that not only did coeliac daughter actually enjoy the Nature's Path Maple Sunrise, we've bought a second pack (from Sainsbury's). Now that is unusual! Thank you Nature's Path!
The O's we were less impressed by, but then nobody here eats O's, whether gluten free or not, so we have nothing to compare them with. I expect that if you're an O's fan, you'd like these.
But the Maple Sunrise offers not only the taste of maple syrup, but also an interesting texture, consisting of flakes and puffs.
Far too nice for a crispie cake. However, Nature's Path do have a recipe for Maple Sunrise Florentines which looks rather delicious…
| | | |
| --- | --- | --- |
| | | I've written a book summarising what we've learnt over 20 years of dealing with the gluten free diet, and it might be just what you're looking for. It packs the lessons we've learned into what I hope is a helpful and straightforward guidebook. It's available on Amazon, as a paperback or for your Kindle… |