Do you know about this?
Approved Food sell clearance foodstuffs that are short dated, past their 'best before' date (but never the 'use by' date) and in date. Some of the lines are discontinued, in older packaging, trial lines and lines from discounted manufacturers. If you're the kind of person who checks the discount shelving in the supermarket – and let's face it, that's pretty much all of us these days – you might find it useful. Plus: they sometimes have branded gluten free products.
Because of the short timescales, there's no guarantee of what will be there from day to day. But today, there are some well known gluten free ranges, notably Baker's Delight and a deidentified supermarket range (if you've been into the supermarket, you'll know whose it is).
Here's a screenshot of the gluten free page. Of course, they do sell staples that are naturally gluten free, such as rice, so don't forget about these other items. This page is for dedicated gluten free foods. Note that I've ticked the box for 'in-date' foods only, so there might be more options that are just past their sell-by date. For more information on use-by and best-by dates, see the Food Standards Agency's Eat Well site.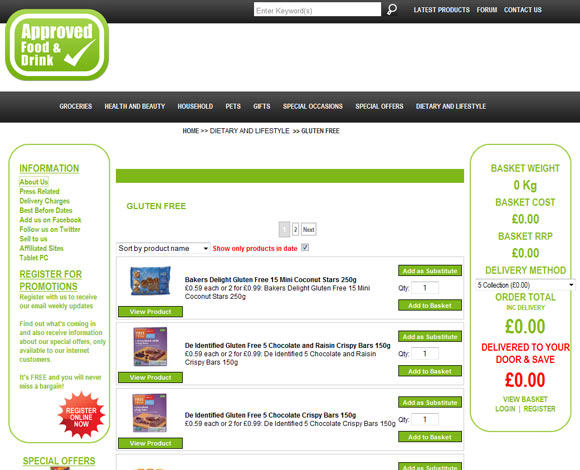 Now, I haven't ordered from this company yet, so I can't confirm their service, but I am subscribed to their newsletter, and do check the site regularly. This might be the first week I do place an order, as there isn't always gluten free food available.
What do you think about this kind of clearance shopping? This is a UK based company – are there equivalents where you are?
| | | |
| --- | --- | --- |
| | | I've written a book summarising what we've learnt over 20 years of dealing with the gluten free diet, and it might be just what you're looking for. It packs the lessons we've learned into what I hope is a helpful and straightforward guidebook. It's available on Amazon, as a paperback or for your Kindle… |