Are you thinking about Christmas yet?
I've been inundated with catalogues since early September, and haven't got a handle on Christmas at all. I know that we're getting together with my parents, my sisters, their partners and assorted children,some of whom will be bringing their partners, in a youth hostel on a beach in Wales, so there will be at least 23 of us … and I know that I'm supposed to be making the cake (I'm going to be using this recipe for a Christmas fruit cake). Apart from that, nothing's very clear yet.
I planned to write this post about gluten free hampers, but spent quite a long time searching for gluten free hampers available in the US before realising that I'm suffering from a transatlantic linguistic issue again. Apparently, a "hamper" in the US isn't a wicker basket full of special treats to eat and drink, as it is here, but a basket full of dirty clothes! No wonder Google was failing to come up with anything suitable …
My plan was to point out an advert I've been running over to the right for a while now, for Gifting Direct, who create gluten free gift baskets (or hampers!) for the UK market. This is actually quite a rare service here, so I'm pleased to be able to suggest that you could send one of these as a present for a gluten free relative (or diabetic), and know that they would be thrilled to receive food they could actually eat.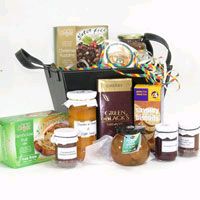 Because of the time of year, Gifting Direct are offering gluten free Christmas hampers (sorry, sorry – gift baskets) as well as their usual range of gluten free baskets, and the Christmas ones contain gluten free biscuits, cheese, gluten free fruit cake, chocolate, stem ginger, chutneys, cranberry sauce and peaches in brandy. How Christmassy is that!
Google has come up with this company in America: GlutenSmart. They are offering gluten free gift baskets too – snack baskets, baking baskets and kids baskets. Now, that seems like a really good idea. I can't imagine my gluten free daughter being thrilled by stem ginger and cranberry sauce, because those are rather grown-up tastes, but who would be able to resist a basket filled with gluten free pretzels, brownie mix and cookies (and loads of other things)?
Have any of you tried GlutenSmart? Can you recommend them?
| | | |
| --- | --- | --- |
| | | I've written a book summarising what we've learnt over 20 years of dealing with the gluten free diet, and it might be just what you're looking for. It packs the lessons we've learned into what I hope is a helpful and straightforward guidebook. It's available on Amazon, as a paperback or for your Kindle… |