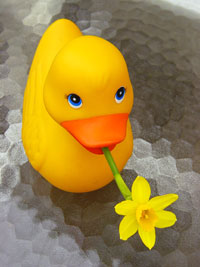 Mothers Day was this Sunday, here in the UK (yes, I know it is different in the US – here Mothering Sunday is linked to the date of Easter).
The traditional joke is that mothers get a cup of cold tea and some burnt toast as a breakfast-in-bed on Mothers Day … I received neither. Partly because I was the first one up in the house, having forgotten it was Mothers Day.
Instead my three children cooked dinner for the grown-ups, and served it to us in a beautifully decorated candle-lit room with music playing.
My son (8) acted as waiter, and prepared the starter, which was a salad. (Managed to get all five of my five-a-day just in that bowl).
My eldest daughter (12) cooked the main course, gluten free quinoa spaghetti from Ancient Harvest (using up her supplies lovingly carried home from America last year) with a tomato, basil and parmesan sauce. She used some of the cherry tomatoes from the fridge, and some passata from the cupboard, basil from the pot on the window-sill and grated some parmesan. It was delicious, and very authentic.
My second daughter (10) prepared pudding, offering us gluten-free dairy-free vanilla icecream with either chocolate or butterscotch sauce. The butterscotch was ready-made, but my children have all learnt the recipe for home-made chocolate sauce by heart. (We like 3 parts icing sugar (called confectioners sugar in the US, I think) to 1 part cocoa powder, 1 part butter and 1 part water – heat and stir).
Then they brought us chocolate while they washed up.
Sometimes I am amazed by the children, and have to remind myself how much I under-estimate them. They are capable of so much more than I expect!
| | | |
| --- | --- | --- |
| | | I've written a book summarising what we've learnt over 20 years of dealing with the gluten free diet, and it might be just what you're looking for. It packs the lessons we've learned into what I hope is a helpful and straightforward guidebook. It's available on Amazon, as a paperback or for your Kindle… |