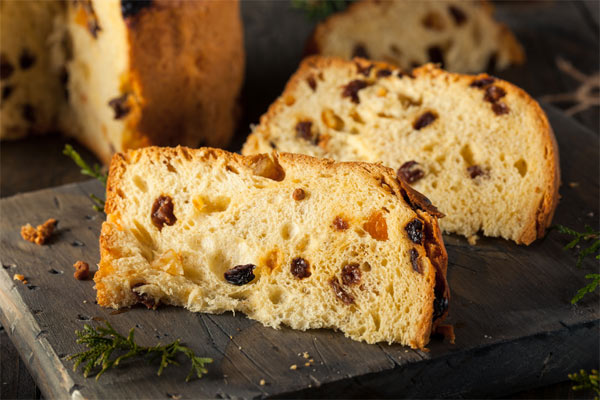 If panettone is one of your Christmas treats—but you need to find a gluten free version—do check out this list (Christmas 2017). But you'd better move fast, as some of these are in short supply. Don't forget you'll need to add postage if you buy online…
Carluccio's will sell you a traditional gluten free panettone with sultanas and candied fruit peel online (500g). Or in one of their shops, of course!
Apparently Sainsbury's have a gluten free chocolate chip panettone, made by Nutri Free, but I've not been able to find it there. The same brand is available at Ocado in both the original and chocolate chip varieties, and at Just So Italian in the chocolate chip version. This one weighs 600g.
Coori have gluten free panettone for sale: traditional or chocolate, and unusually these are also available in a lactose free version—hurrah! These are also 600g – panettone are big cakes.
Various places (such as the Ethical Superstore, or Natural Collection) have a 500g Probios organic gluten free panettone available here in the UK.
Schar used to do one, but it doesn't seem to be available any more – even on the Italian site. However, this one looks interesting, if you are US based: Trentasette gluten free panettone with raisins (no candied fruit). It is only 250g (so smaller than most) and available from Amazon.com or from Pasta Cheese (only 3 left here!)
It is possible to buy gluten free panettone made by Motta from etalianfood.com (400g) – or, for a change, a gluten free pandoro cake (500g) made by Bauli!
I've never tried this kind of cake, but it originated in Verona, and is traditionally a golden-yellow star-shaped cake dusted with powdered sugar. If you want one of these, you'd better go quickly; there is limited availability. If you'd like to find out the difference between panettone and pandoro cakes, Italy Magazine has some information. Etalian are based in Italy but will ship worldwide.
So: there's an increasing range available, including a lactose free version, which is good news.
Panettone is popular in my house; but I'm quite tempted to try the pandoro cake this year just because it's different. Do let me know if you've found any other suppliers of gluten free panettone…
| | | |
| --- | --- | --- |
| | | I've written a book summarising what we've learnt over 20 years of dealing with the gluten free diet, and it might be just what you're looking for. It packs the lessons we've learned into what I hope is a helpful and straightforward guidebook. It's available on Amazon, as a paperback or for your Kindle… |