Looking to stock your freezer with freshly made gluten free food? I know that if your life is as busy as mine, it often seems to be time to feed the children again just as soon as you've dished up the last meal, with no time in between to get out to the shops …
I've recently come across the Lady of Shallott, which is a small company based in Sheffield here in the UK, and which does weekly deliveries of a variety of ready-prepared meals, including soups, salads, main courses, desserts and light meals (or child size meals). These are all vegetarian, and some are also vegan.
Most are suitable for coeliacs and nut allergy sufferers, or can be made so. Do go and have a look – the menu looks great, and this is just such a good idea.
It would be great to have this delivery, and also a delivery of fresh fruits and vegetables from a local organic farm once a week – then you'd be sorted, and could really cut down on the shopping! In fact, a joint venture with a box scheme for fruits and vegetables might be a great idea for the Lady of Shallott.
Just love the name of the business. The idea is that you fill your freezer with these healthy meals – they will offer a discount for a big order.
I'm hoping to try some of their meals soon, and I'll report back.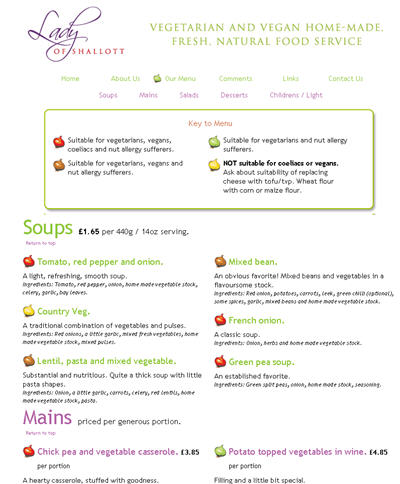 | | | |
| --- | --- | --- |
| | | I've written a book summarising what we've learnt over 20 years of dealing with the gluten free diet, and it might be just what you're looking for. It packs the lessons we've learned into what I hope is a helpful and straightforward guidebook. It's available on Amazon, as a paperback or for your Kindle… |