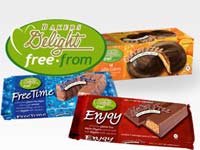 Gluten free food fairs, should you get the chance to go to one, are well worth the trip. Even after 11 years, we still find new products.
We went across country, to Teesside, to a food fair we'd not been to before, because coeliac daughter has been asking for a chance to go to one for a while now. They don't come up very often, and we usually have to travel …
This food fair, organised by the Cleveland Coeliac Group, was great. Not huge – probably about 15 suppliers of gluten free products, together with a few other stalls – but very well organised. The small coffee bar was stocked with home made gluten free scones (fruit or cheese), and they'd arranged a colouring table for the children who weren't wandering around tasting all the samples.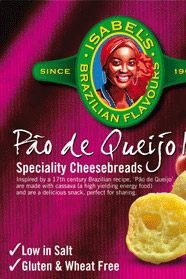 My daughter tasted a lot of different things. Not all – she couldn't bring herself to taste the fishcakes, and she'd run out of enthusiasm for cake after a while – but we discovered new things, which is what we went for. Plus, as always, the wonderful thing about these events is that she can eat anything in the room without worrying!
We tried lots of free samples, were given some samples to take away, and bought rather more things than I'd been planning to. But our two new discoveries are:
New chocolate biscuits from Bakers Delight
Baker's Delight Free Time, from Baker Bennett Ltd. We bought two packets, and after just a few days I was on a mission to find more. She loves them!
I contacted Baker Bennett, who were very helpful, and told me that they are a new product, stocked by Waitrose, but that they are also available online at Gluten Free Foods Direct (one of my regular haunts).
Brazilian Cheesebreads
Pao de Queijo Mix from Isabel's Brazilian Flavours, which makes up into delicious light cheese breads, which are naturally gluten free. Daughter went back several times to sample more of these!
I just love finding new things that my daughter actively enjoys eating, rather than just eating because she needs to eat.
| | | |
| --- | --- | --- |
| | | I've written a book summarising what we've learnt over 20 years of dealing with the gluten free diet, and it might be just what you're looking for. It packs the lessons we've learned into what I hope is a helpful and straightforward guidebook. It's available on Amazon, as a paperback or for your Kindle… |