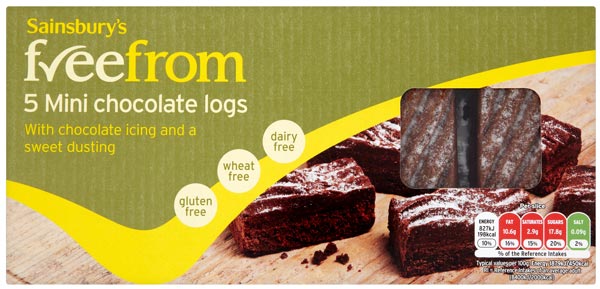 Do you ever eat something to be polite? Or to avoid waste?
I had an interesting conversation recently when Sainsbury's sent us a box of their new Christmas range to try out and report on (thank you, Sainsbury's!).
The box was wrapped in festive paper—the other children had assumed it was a present and discreetly ignored it—and coeliac daughter was thrilled to open it and see what Sainsbury's are offering this year. She fell on the pack of 5 mini chocolate logs with delight: "oh, I like these!": we had bought a pack a week or so ago, as soon as we spotted them on the shelves.
I asked her to articulate what she liked. I asked her again the next day after the second one, and again after the third mini-log…
Clearly struggling with trying to describe them, eventually she said:
"they make me want to eat more"
When I pushed her a bit, she explained that most of her packets of biscuits, cakes etc were an effort for her to finish, and that she often felt that she had to finish the packet before they went off – even if she wasn't that keen on them.
"It's hard, sometimes, being the only one"… (there are five of us, and only one coeliac identified – so far).
We have agreed in the past that if people make the effort to find her something gluten free to eat—maybe biscuits—she will be polite, accept one, and do her best to eat it. After all, they've made extra effort to be hospitable and to cater for her.
And we do dislike waste.
But maybe I haven't made it clear that she doesn't have to eat everything!
It is a lot easier to find good gluten free products now, and it is much less common that people offer her one of the old-style gluten-free-cardboard biscuits, so it's less of an issue. But still, it is rare to find something that she actively wants to eat again… and Sainsbury's have clearly nailed it with these gluten free mini chocolate logs this year.
But what do you think? Would you eat something to be polite? Do you feel you have to finish the pack of something you don't actually want to eat, to avoid wasting it? Or have you found gluten free products that you actively look forward to eating?
(I'll tell you more about the Sainsbury's Christmas range another day…and I've already bought more of the mini chocolate logs)
| | | |
| --- | --- | --- |
| | | I've written a book summarising what we've learnt over 20 years of dealing with the gluten free diet, and it might be just what you're looking for. It packs the lessons we've learned into what I hope is a helpful and straightforward guidebook. It's available on Amazon, as a paperback or for your Kindle… |