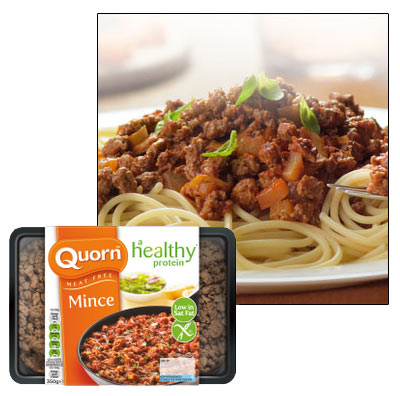 What do you think about free-from products that try to mimic the 'normal' product?
I don't eat meat. As a vegetarian student back in the 1980s I tried TVP: textured vegetable protein. The idea was that it mimicked meat, so you could use it to replace mince in recipes such as shepherd's pie, or chili.
However, it had to be soaked and then boiled to be rehydrated – and it stank worse than a butchers shop does to a vegetarian.
I believe it's now much improved, but that experience means that I tend to avoid vegetarian food that tries to replicate meat. After all, if you don't eat meat, you don't eat it, right?
So I was intrigued though slightly doubtful when I received some vouchers to try the new gluten free Quorn products.
Quorn is a mycoprotein-based protein, so is suitable for vegetarians – indeed, it's received a seal of approval from the Vegetarian Society. But we've been avoiding it, because for the most part it's not been gluten free–until now.
There is now a suite of Quorn products that are gluten free, and clearly marked as such on the packaging–I looked at the Quorn range for the first time in years when I went to the supermarket recently. In fact, there are 27 different Quorn products certified as gluten free by Coeliac UK.
So we tried it. Well, Coeliac Daughter did: I couldn't get past the TVP experience. And she reports that though the ham-style Quorn was OK (didn't smell quite right, apparently), the mince-style Quorn was indistinguishable from mince, and worked well in her recipes. As a meat-eater who doesn't have any TVP baggage to deal with, she found it to be very acceptable.
And apparently, more meat-eaters than vegetarians buy Quorn, especially since they are promoting it as #healthyprotein, rather than as vegetarian. Interesting…
Do go and look at their website. The link to their gluten free section is hidden down in the footer, so I'd recommend that they add it to the main navigation for easy access, especially since they're promoting their gluten free range at the moment. They've got a small collection of gluten free Quorn recipes too.
I might suggest that Coeliac Daughter try the bacon-style Quorn next…
| | | |
| --- | --- | --- |
| | | I've written a book summarising what we've learnt over 20 years of dealing with the gluten free diet, and it might be just what you're looking for. It packs the lessons we've learned into what I hope is a helpful and straightforward guidebook. It's available on Amazon, as a paperback or for your Kindle… |