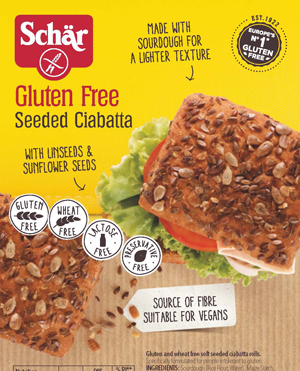 As always, we spent some time in France this summer (Beaune and the Jura, since you ask), and spent some time in supermarkets.
We usually do find some gluten free treasure, and this year we found Schär speculoos biscuits and wraps.
Speculoos biscuits are cinnamon spiced Belgian biscuits, and were very, very good—those of you who can eat gluten may be aware that Ben & Jerry's make a speculoos biscuit icecream.
And the wrap was outstandingly successful at wrapping… soft and flexible, just as a wrap should be.
But can we find them here in the UK? No.
I called Schär to ask where I could buy them, and they confirmed that they are not available here in the UK. It doesn't sound as though they have plans to introduce them either.
I don't know about you, but I feel we have enough gluten free versions of everyday biscuits and chocolate muffins, popular as those are. I'd like to see more exciting and unusual products on the shelf, and Schär have plenty of those. The supermarkets here have really upped their game in the last few months, and I'd like to see more Schär products on our shelves. Bring on speculoos biscuits, puff pastry, high quality wraps and croissants!
There are many other Schär products available in other countries that we can't get yet: how about fusilli with arrabiata sauce, ricotta and chard ravioli, or ladyfingers (for making tiramisu with)?
Schär are definitely working on bringing more things into the UK; we were sent a range of goodies to try recently, including a wide variety of breads and some frozen foods.
Their frozen range is increasingly interesting. We've always enjoyed the Bonta d'Italia pizzas and the white rolls (the ones that look petalled), but they've added chicken kievs, cannelloni and caserecce. My expert taster recommends the cannelloni and caserecce ready meals… apparently they don't look appealing at first, but when you cook them they look much nicer and are fantastic for a quick meal.
Of the breads, our favourites were the paninis and the baguettes. The paninis were good, and were perfect for packed lunches; they are surprisingly crispy on the outside and soft on the inside. The baguettes, too, were very well received – and the salti crackers were very, very addictive. It is more than possible that I ate the whole packet of those… (oops).
The range of foods available now amazes me when I think back to when we first started out on the gluten free journey 20 years ago. What must it have been like 20 years before that?
| | | |
| --- | --- | --- |
| | | I've written a book summarising what we've learnt over 20 years of dealing with the gluten free diet, and it might be just what you're looking for. It packs the lessons we've learned into what I hope is a helpful and straightforward guidebook. It's available on Amazon, as a paperback or for your Kindle… |