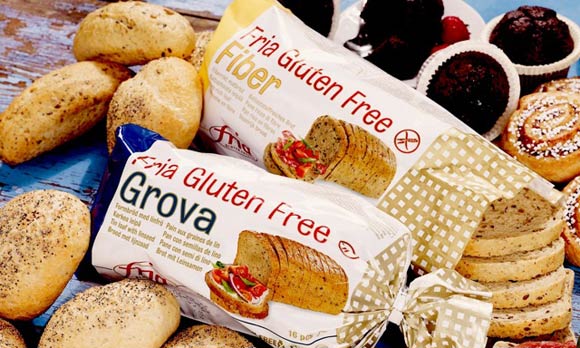 And my third new find of the week…
Have you ever heard of Fria? I hadn't, but apparently they are the market leader in gluten free bread in Scandinavia.
I met the Fria team on Friday, when they were running a tasting in John Lewis, Oxford Street (London); they then did a tasting in John Lewis in Bluewater (Kent) on Saturday. Perhaps you saw them there? If you did, then please let us know what you thought of the bread in the comments below.
The Fria breads will be available here in the UK until the end of February 2011, but only from those two places, as part of a promotion of Swedish food in collaboration with the Swedish Trade Council. If you're interested, then make a special trip…
I wish this trial was running across all John Lewis stores, so that more people would have a chance to try it. Not everyone living gluten free lives in London; I just happened to be in London that day, and was invited to attend.
The breads are frozen, but once defrosted need no refreshing. There are 3 breads available in the UK for the moment: a seeded brown, a white, and some mini-baguettes.
I thought the bread was good: no 'gritty' taste, and no after-taste either. Personally, I preferred the seeded brown, but I bought one of all three products to carry home for my daughter to try. And Fria gave me a Kladdkaka (a chocolate brownie cake), which is really very good indeed.
But what I'd really be interested in is their other products, especially:
Kanelbulle – a cinnamon swirl. If the dough they've used for that is similar to the breads, this would be a winner.
Lussekatter – a traditional Swedish sweet bun, flavoured with saffron. This is seasonal – maybe it is an Easter product?
Pepparkaksdeg – ready-to-bake dough to create your own gingerbread-men. Also seasonal: I'm guessing for Christmas. I'd make a nativity scene out of this!
Slät bulle – A sweet soft bun, flavoured with cardamom. This sounds interesting, doesn't it?
Have a look at the Fria products and let me know what you think. More importantly, let Fria know by email what you think. If there's enough demand, and if they can set up a relationship with a supermarket, then Fria will consider importing products on a longer term basis.
Are you listening, supermarkets?
**************
UPDATED 6 Feb 11: Two more sampling days to come
Wednesday 16th of February at John Lewis foodhall, Bluewater in Kent, from 11am – 7pm
Thursday 17th of February at John Lewis foodhall on Oxford Street, London, from 10am – 7pm
| | | |
| --- | --- | --- |
| | | I've written a book summarising what we've learnt over 20 years of dealing with the gluten free diet, and it might be just what you're looking for. It packs the lessons we've learned into what I hope is a helpful and straightforward guidebook. It's available on Amazon, as a paperback or for your Kindle… |