Sorry: this isn't it, but I know one of you out there has it …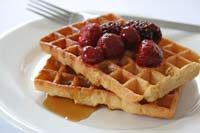 Once again, I spent 20 minutes scouring the kitchen to find the tiny scrap of paper that came with our waffle-maker 10 years ago, because coeliac daughter decided she fancied waffles this morning.
It happens every time – this piece of paper enjoys playing hide-and-seek. So I'm documenting the recipe here, for my own benefit, really (you have no idea how many times I've had to print off the recipe for chocolate brownie from my own site).
My preferred ready-made gluten free flour mix here in the UK is the Wellfoods version. No doubt you'll have your own preferred blend – perhaps even specially for waffles – and I'd be really interested to know what blend you use for waffles. The problem I have is that although the waffles puff up nicely while hot, they deflate sadly once they start to cool. I'm sure the ones my mother used to make when I was small (using non-gluten-free flour and a proper heat-on-the-hob American waffle iron, imported by her from the days when we lived in America) didn't do this.
What am I doing wrong?
I wonder if its the electric waffle iron, not the flour mix or the recipe?
Recipe
6 oz plain flour
2 tsps baking powder
1/2 tsp salt
2 tsps sugar
2 eggs (separated)
8 fl.oz milk
3 oz melted butter
Method
Combine the dry ingredients.
Mix the egg yolks and milk, then add the melted butter. Beat well, and then add to the dry ingredients. Beat again.
Whisk the egg whites, and fold into the other ingredients.
Add dollops to the wafflemaker and cook until golden brown.
Eat with proper maple syrup (is there any other way?)
Yes, this makes a lot of washing-up. Definitely a weekend-only treat.
| | | |
| --- | --- | --- |
| | | I've written a book summarising what we've learnt over 20 years of dealing with the gluten free diet, and it might be just what you're looking for. It packs the lessons we've learned into what I hope is a helpful and straightforward guidebook. It's available on Amazon, as a paperback or for your Kindle… |