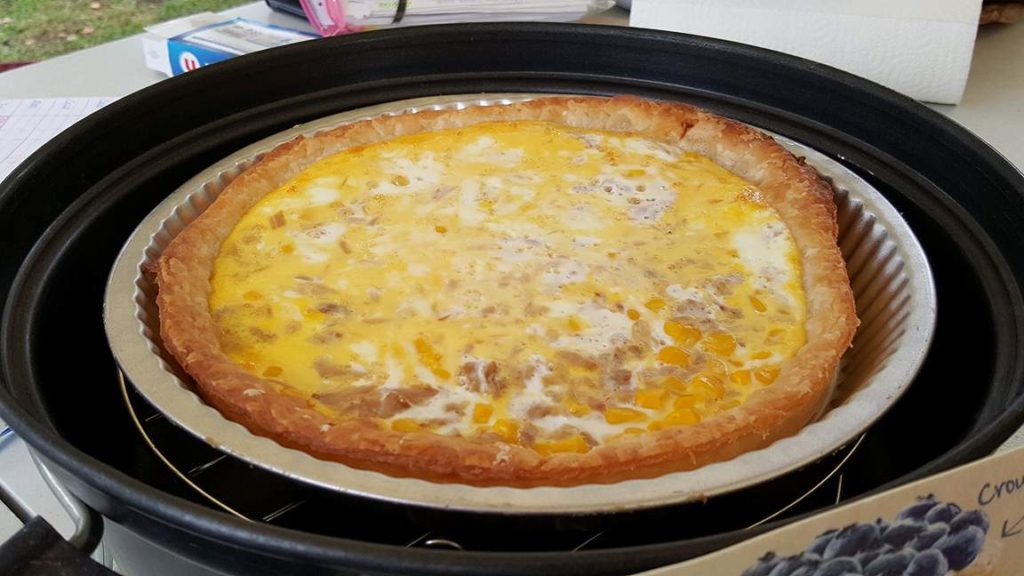 Coeliac Daughter was talking at a conference yesterday, about what it's like to be a free from Millennial. Odd: I don't think of her as a Millennial!
But it did make me think about how much things have improved since the days when I made her gluten free look-a-like "tinned spaghetti" and chicken nuggets to go to nursery with, so she would have food that looked vaguely similar to what the other children were eating…
Just in the last few months we've tried:
ready rolled gluten free puff pastry / flaky pastry / pizza bases from Croustipate and Regain (French manufacturers) – we cooked all three in our Remoska, while camping. You can see the results in the image above – look how the pastry has shrunk away from the sides of the tin, just like it's meant to… Imagine: ready rolled gluten free pastry, and not just that – a choice of flaky, puff or shortcrust pastry!
vegetarian gluten free Heidi pie from PieMinister (hot water crust style pastry, like a pork pie) – delicious, but so filling, we could only eat half
gluten free cheese and onion rolls (flaky pastry) from M&S – these were fab
olive oil and rosemary foccaccia bread from Tesco – quite the best gluten free version of foccaccia I've tried, and they come portioned in individual baking trays (so sensible)
protein wraps from Warburton's – these were not only tasty, but they do actually wrap… and given that we are not alone in our efforts to eat more protein, it is interesting that the Free From market has picked up on this trend.
Coeliac daughter has come home in a state of high excitement with bags full of new finds from several shopping expeditions over the summer to big supermarkets such as Tesco, Sainsbury's and M&S. Sadly, where we live, they have to be deliberate expeditions, as it seems to be only the bigger stores that stock a good range of products; the smaller ones locally sometimes seem to have problems maintaining supplies of gluten free foods.
However, there are some amazing new and imaginative gluten free options around at the moment; it's so wonderful to have a choice that's not between two boring white sliced loaves.
| | | |
| --- | --- | --- |
| | | I've written a book summarising what we've learnt over 20 years of dealing with the gluten free diet, and it might be just what you're looking for. It packs the lessons we've learned into what I hope is a helpful and straightforward guidebook. It's available on Amazon, as a paperback or for your Kindle… |