I've just had an email from Adam, one of Tesco's frozen foods buyers with some good news for coeliacs.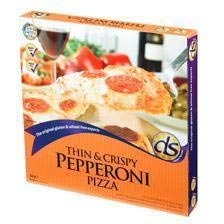 You may remember that I was delighted a few months ago when he bothered to ask coeliacs what they'd like to see from Tesco to make life easier. He asked around, including on the biggest UK coeliac messageboard. I was impressed.
And now he's come up with the goods.
Even better, he's come up with at least two of the things I particularly wanted: Dietary Specials pizza, and ready-made pastry.
He says:
I am pleased to inform you that, as of Feb 1st, I will be launching a selection of Dietary Specials products into approx 400 Tesco stores across the UK.

The range will be as follows :

Dietary Specials Pizza / Dietary Specials Steak Pies / Dietary Specials Lasagne / Dietary Specials Yorkshire Puddings / Dietary Specials Pastry Block / Dietary Specials Sausage Rolls

If you have purchased any Free From products from a Tesco store in the last few months, and you have a Tesco ClubCard, you should be receiving notification of this soon via post along with a coupon to 'save 50p' on your first purchase.

I will be advising the necessary forums of this and will hopefully arrange to have a list of the stores who will be stocking posted online somewhere.

I hope that by stocking these products, I can help contribute towards making your life easier by providing the products you want at the competitive prices Tesco always offers.
Hurrah! I'm just hoping that our tiny Tesco here in the rurals will qualify…
Now then, Adam – what about those gluten free croissants we'd like?
| | | |
| --- | --- | --- |
| | | I've written a book summarising what we've learnt over 20 years of dealing with the gluten free diet, and it might be just what you're looking for. It packs the lessons we've learned into what I hope is a helpful and straightforward guidebook. It's available on Amazon, as a paperback or for your Kindle… |