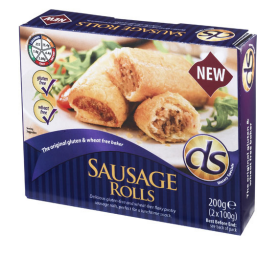 Wait for a long time… then you get two at once.
Not only do we have the new gluten free fish fingers from a 'normal' fish finger provider – a break from tradition in itself – we now have two new products from a dedicated gluten free provider.
Dietary Specials have announced the arrival of their new wheat-free and gluten-free frozen pastry and sausage rolls. These should be available from Sainsbury stores across the country (UK, I'm afraid) and some people are already reporting that they've found them.
The press release overstates it a little bit, announcing that this gives coeliacs the chance to enjoy readymade pastry for the first time… this isn't strictly true, as it has been possible to buy readymade frozen gluten free pastry from a range of different suppliers for a while now (online, from G-Free and Sussex Larder at Johnson's Provisions or Gluten Free Foods Direct,for example, or on the high street from local providers such as our local shop Just For You) and we've been buying readymade gluten free sausage rolls from Lifestyle for years.
But it is true that this is the first time that readymade gluten free pastry and sausage rolls have been available in a national supermarket.
For some people – perhaps those who prefer to buy from supermarkets, those who don't want to buy in the bulk quantities sometimes required by online providers, or those who don't usually buy gluten-free, but need to cater for a visitor – this is a big step forward. Hurrah for Sainsbury and Dietary Specials!
My shopping list is getting ever longer – I need to put the keyboard down, stop working and go out to the shops…
| | | |
| --- | --- | --- |
| | | I've written a book summarising what we've learnt over 20 years of dealing with the gluten free diet, and it might be just what you're looking for. It packs the lessons we've learned into what I hope is a helpful and straightforward guidebook. It's available on Amazon, as a paperback or for your Kindle… |