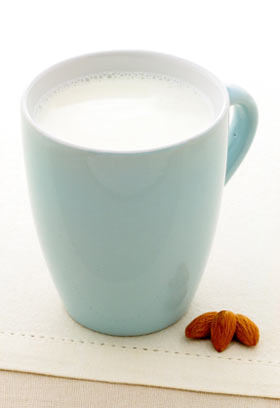 Do you have a preferred non-dairy milk?
Luckily, we don't need to be lactose-free in our house, though there was a little friend some years ago who was dairy-free, so I got used to using Pure to cook with, to having Swedish Glace dairy-free icecream in the freezer, and even soya milk occasionally. Though I'm not a fan of soya milk…
I was offered the chance to try some almond milks – Almond Breeze, from Blue Diamond – and since I love almonds (there's always an open packet here, for snacking on) I thought I'd say yes. They kindly sent me two: one 'original' and one 'unsweetened'.
Because I was hesitant about the 'sweetened' version (sweet milk?), I decided to try making yoghurt with it. I have a yoghurt maker, because we do get through a lot of yoghurt, and there are lots of recipes for almond milk yoghurt on the web… How hard can it be? I thought. Instead of using live yoghurt as a starter, which I'd usually use for 'normal' yoghurt, I bought some freeze-dried yoghurt starter, and I added a little extra sugar, so the culture would have something to eat.
Oh dear.
It went well for the first few hours, but overnight the yoghurt split and curdled, turning a rather unpleasant grey colour. I wasn't expecting it to be exactly the same – because almond milk just isn't the same colour as dairy milk – but this was a disaster.
Checking up on the Almond Breeze site, it does say 'don't make yoghurt'—and now I know why.
However, the unsweetened almond milk experiment worked very well.
It has a pleasant and extremely […]