Which gluten free bread are you eating at the moment?
Maybe you make homemade regularly; maybe you get bread on prescription… but if you buy gluten free bread from a UK supermarket, do try the new Roberts Bakery bread, branded 'Yes! You Can'.
They do white and brown sliced loaves, and they are really very good indeed.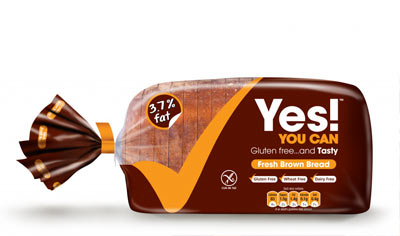 After my earlier posting, when I found the Yes! You Can loaves unexpectedly in my local supermarket, I was contacted within 3 hours by the General Manager at Frank Roberts & Sons (GF Division). Impressive response times!
He sent us some loaves to try, both white and brown: I think we've given them an exhaustive tryout, using the bread at a variety of meals, fresh, toasted, and in recipes such as fish cakes, including in packed lunch sandwiches for daughter's Duke of Edinburgh expedition – yes, they survived without crumbling!
Apart from the taste, which we like a lot, and the texture, which is soft and pliable without falling apart, the bread has been carefully made to be low in fat. We know this is an on-going issue with gluten free products, and I think this is commendable. The loaves are also wheat free and dairy free – and are made without egg and nuts, though eggs are handled on-site, and nuts are handled by suppliers of ingredients.
Notably, the bread was enjoyed by coeliac and non-coeliac alike: yes, we run a mixed household here.
Do try the bread. You can find the loaves in Tesco and the Co-op across the country: our Tesco had more in yesterday.
They're made at the Davies Bakery near Chester, which is a dedicated gluten free bakery, and which was bought specifically so that the Roberts Bakery could enter the gluten free market.
There are plans for other products… I'm looking forward to finding out what those might be!
| | | |
| --- | --- | --- |
| | | I've written a book summarising what we've learnt over 20 years of dealing with the gluten free diet, and it might be just what you're looking for. It packs the lessons we've learned into what I hope is a helpful and straightforward guidebook. It's available on Amazon, as a paperback or for your Kindle… |