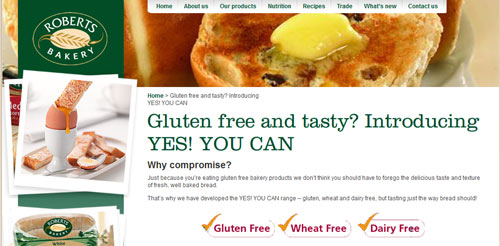 Just in from a quick dash to Tesco again (I seem to have been to one supermarket or another every day this week) where I found:
Genius pains au chocolat (more on these when we've tasted them)
Roberts 'Yes! You Can' brown bread
It's interesting that yet another mainstream baker has joined the gluten free providers. Roberts Bakery is a northern brand (Cheshire, Staffordshire, the Midlands and North Wales) and is probably Frank Roberts & Sons primary bread brand. One of their newer acquisitions (2010) was P&A Davies, from Chester, now known as Davies Bakery, and which specialises in gluten free products.
Curiously, the new gluten free bread is branded as Roberts Bakery bread, not Davies Bakery.
I haven't managed to find much online about this new bread—not much more than a trademark submission from the Intellectual Property Office in early 2012. The Products/Gluten Free page of the Roberts website is blank, and I haven't found any press releases. I wonder if the bread on the shelf in my local Tesco is part of a trial?
And… don't you think it's interesting that this is the second major northern baker to offer gluten free bread? I wonder what Allied Bakeries and Premier Foods are working on?
| | | |
| --- | --- | --- |
| | | I've written a book summarising what we've learnt over 20 years of dealing with the gluten free diet, and it might be just what you're looking for. It packs the lessons we've learned into what I hope is a helpful and straightforward guidebook. It's available on Amazon, as a paperback or for your Kindle… |