We're still on the hunt for a more interesting gluten free breakfast for my coeliac daughter …
I've found another new product (new to me, anyway): Kelkin gluten free porridge, which I found in Tesco. This is an Irish product -which reminds me, an Irish coeliac friend who lives in our small village said that when she was visiting there over Christmas, she found the best gluten free bread she'd ever had – must find out what it was!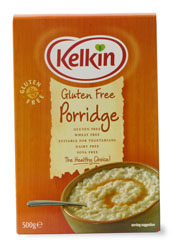 This is a mix of rice and millet flakes, and I can't help feeling that there must be a typo on the packaging … it said to use 50g of the flakes to 220ml of liquid. When my daughter showed me, I thought that this seemed like a lot of liquid, and I was right – but of course, one tends to trust the packet, and I thought perhaps rice and millet behaved in a different way than oats do. When it had been cooked for the specified time, the flakes had expanded and softened, but there was still a huge amount of liquid unabsorbed. It looked nothing like the picture on the pack, and rather more like a bowl of milk with some flakes floating in it.
We tried again this morning, using the usual proportions I would use for making porridge: 1/2 cup of flakes to 3/4 cup of liquid. This was a lot better – looked more like porridge – but was still oddly liquid.
She tried it with golden syrup this morning, and only managed about half the bowl before deciding she was too full to finish. So that was a rather small breakfast, but I think she did enjoy the taste. And she had decided to try it for a second morning, so it obviously wasn't a complete disaster.
I do have a packet of gluten free oats, so I could offer her an oat-based porridge, and see if she prefers that tomorrow.
Kelkin also make gluten free bread, jam tarts, muffins, cake and stuffing mix, as well as selling bread flour mixes. I've never seen a Kelkin product here before, so perhaps they're making a push to expand their market? I hope so, because we could do with more variety. The space allocated to gluten free products on supermarket shelves seems to be shrinking again …
| | | |
| --- | --- | --- |
| | | I've written a book summarising what we've learnt over 20 years of dealing with the gluten free diet, and it might be just what you're looking for. It packs the lessons we've learned into what I hope is a helpful and straightforward guidebook. It's available on Amazon, as a paperback or for your Kindle… |