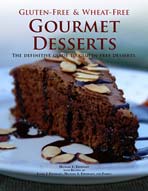 Though I ordered this book a while ago from Mike Eberhart, its arrival coincided with my realisation that my clothes were feeling – shall we say 'slightly tight'? So I postponed cooking from the book for a while … and then it was a birthday.
Husband and I both like carrot cake and it was his birthday on Tuesday, so rather than making the usual chocolate cake, which I know the children would have eaten, I made Mike's carrot cake.
I confess – I lied to the children.
I told them it was called passion cake, and when asked to list the ingredients, went into monotonous detail about the types of flour used, the spices etc – and failed to mention either the carrot or the pineapple. They are wise to the old 'concealed vegetable' tricks touted by so many clever mothers, and whenever I make a cake, I always get 'Is there banana in this one?'
Why don't these mothering techniques work for me?
If I had told them about the carrot and pineapple, it is likely that they would have seen it as a dirty trick, spoiling good cake with vegetables and fruit.
So I lied, if only by omission.
And two out of three children ate it and enjoyed it, though they both said it was really filling, and couldn't manage a whole piece. The third spotted the additions, and since she refuses to eat vitamins on principle, she wouldn't touch it.
Our gluten free daughter has been putting it in her packed lunch for school all week, so it obviously was a hit.
The grown-ups ate it and REALLY enjoyed it. It is a fabulous cake. The only downside is that it is a massive cake, at least twice as big as a normal-sized cake (or UK normal, anyway – perhaps this is a hangover from rationing!), and simply demands to be eaten. In fact, the cake insisted that I eat two slices yesterday.
Next time I shall cut the quantities in half, otherwise I shall have to buy a whole new wardrobe.
The book itself is gorgeous too – beautifully produced, with great pictures (one for each recipe, which I think is important), good, clear instructions, and a big easy-to-read type-face. I did have to go to greater lengths than usual to find all the different gluten free flours, most of which are not available in the local supermarkets (though they are available from specialist suppliers online). Now I have all the flours needed, I'm set.
Next time, which may even be this afternoon, I shall make the Date and Nut cake, which looks ideal for taking camping – our plans for the weekend.

Our recommendation: buy this.
| | | |
| --- | --- | --- |
| | | I've written a book summarising what we've learnt over 20 years of dealing with the gluten free diet, and it might be just what you're looking for. It packs the lessons we've learned into what I hope is a helpful and straightforward guidebook. It's available on Amazon, as a paperback or for your Kindle… |