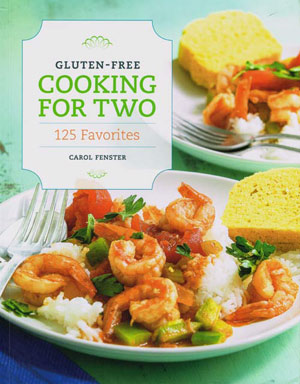 I've been cooking for five or more for over two decades, but now our household is reducing in size as the children leave for university, one at a time, and we will be down to two by the autumn.
Each of my children are (or will be, when the last one goes) cooking for themselves, meaning that our large household is slowly turning into four small ones. And I'm struggling to know what to cook for one or two people—I'm out of practice!
Nearly ten years ago, I reviewed a book by Carol Fenster (Gluten Free Quick and Easy) and she's just sent me another to review. This one is called 'Gluten Free Cooking for Two'… how timely is that?
According to Carol, 28 per cent of US households were 'solo' in 2011. I've just looked up the statistics, and here in the UK, according to the ONS, in 2016, 28% of us were living in single-person households, and 35% in two-person households. That's a huge proportion of small households.
Sometimes there are different 'groups' of diners in a household, too, making the cooking-for numbers smaller. For instance, in our five-person household, we have one coeliac and one vegetarian. While we typically cook everything gluten free, often the vegetarian will have a separate meal when the others really want to eat meat.
And cooking for smaller numbers—especially when you're not used to it—can be tricky. It isn't always as easy as halving the recipe.
Gluten Free Cooking for Two does a good job of dealing with the problems of small recipes, and is packed full of cooking tips—for instance, it had never occurred to me to use a small spring-action ice cream scoop to portion out cupcake batter, but it is a great idea. And in the recipe for clam chowder, she suggests that if using rice milk instead of cows milk, adding potato starch or corn starch would help to thicken the soup. In fact, talking about thickeners, I'd never really thought about why using one rather than another is to be preferred for certain dishes; very interesting indeed. I like that Carol is happy to recommend shortcuts such as readymade pesto, or a no-stir risotto—I do like a shortcut here and there—and the recommendations for smaller loaf tins, pans and other cooking equipment are sensible.
It is written for the American market, which means that we Brits probably won't know some of the ingredients or the specific brands she mentions (pumpkin pie spice, or Old Bay seasoning, for example), and may have to concentrate a bit harder when measuring out ingredients (cups rather than ounces), but the recipes look good: tasty and easy to prepare. And so tempting, in their smaller proportions! The photos of the finished dishes look fab, but I'd still like to see more.
I'm inspired to try several: particularly the desserts in ramekins. And it hadn't occurred to me to try making paella for two…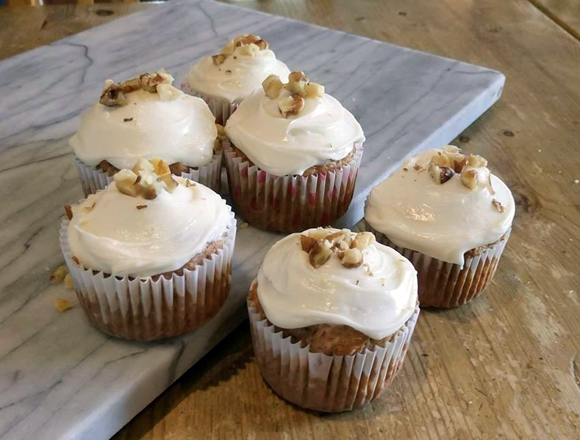 On your behalf, we have followed Carol's recipes to make (so far): cherry clafoutis, coconut-curry salmon, pizza and carrot cake. Not enough desserts yet!
The carrot cake cupcakes are pictured on our kitchen table, above; you can see that the mix makes a small batch. Even so, Coeliac Daughter found them to be quite large, and said that she would split the mix into eight next time—obviously she'll have to adjust the cooking time a little.
We enjoyed both the making and the eating—especially the carrot cakes—and Coeliac Daughter will be taking the book back to her student house next term. If you'd like a copy, Gluten Free Cooking for Two will be available from Amazon from tomorrow, April 4th.
| | | |
| --- | --- | --- |
| | | I've written a book summarising what we've learnt over 20 years of dealing with the gluten free diet, and it might be just what you're looking for. It packs the lessons we've learned into what I hope is a helpful and straightforward guidebook. It's available on Amazon, as a paperback or for your Kindle… |