I'm very excited about this: my first ever competition! [fusion_builder_container hundred_percent="yes" overflow="visible"][fusion_builder_row][fusion_builder_column type="1_1″ background_position="left top" background_color="" border_size="" border_color="" border_style="solid" spacing="yes" background_image="" background_repeat="no-repeat" padding="" margin_top="0px" margin_bottom="0px" class="" id="" animation_type="" animation_speed="0.3″ animation_direction="left" hide_on_mobile="no" center_content="no" min_height="none"][Now Closed]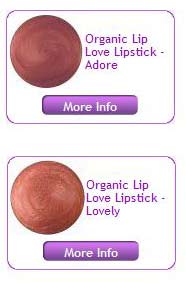 I enthused about Afterglow Cosmetics very recently, and they are very kindly donating a prize of TWO of their glorious gluten free lipsticks for one lucky winner. This is a great prize because the lipsticks are organic, as well as gluten free, and come in wonderful colours. The colours you could win are Adore, and Lovely (see picture, right).
Afterglow cosmetics are 100% gluten free because their founder's mother and sister both have coeliac disease and must avoid all things containing gluten – including cosmetics. When setting up Afterglow Cosmetics, Kristin made sure that none of the ingredients used to formulate her line of cosmetics contained gluten. The vitamin E, for example, comes from organic cotton seed oil and organic olive oil, not from wheat, so you can use them without worrying.
And this is how you can win this great prize …
Let me know, either in a comment or in a post on your own site, where is the most unlikely place you've found gluten. For example, here in the UK, they put gluten in Smarties (a bit like chocolate M&Ms, only bigger). If they can make M&Ms without gluten, why do Smarties need it?
You never know, you pointing out gluten in some unlikely source might just save somebody else from some unpleasant glutening. I will collate the anwers in one blog post after the competition, just to be sure we've captured all your valuable nuggets of information.
The competition will close on 4 July 2008, when I will randomly choose one entrant. You can claim an entry by putting your tip about unlikely sources of gluten in a comment, or by writing a post about the competition or about Afterglow Cosmetics (including your tip as to the most unlikely place to find gluten), and linking to this post – so I know you've entered.
If I don't know you've entered, you won't be in the running to win!
The prize can be delivered to people in the UK, Europe. USA or Canada; if you're the winner, I'll contact you to ask for details of the delivery address, so that Afterglow can send the prize direct to you (so make sure your email address is available to me).
[/fusion_builder_column][/fusion_builder_row][/fusion_builder_container]
| | | |
| --- | --- | --- |
| | | I've written a book summarising what we've learnt over 20 years of dealing with the gluten free diet, and it might be just what you're looking for. It packs the lessons we've learned into what I hope is a helpful and straightforward guidebook. It's available on Amazon, as a paperback or for your Kindle… |