Did you know that people with coeliac disease have an increased need for calcium even when they are on a gluten free diet?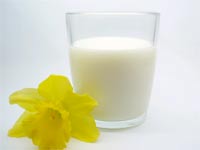 I didn't. I thought that simply cutting out the gluten and eating a generally healthy diet would be enough. But according to a dietician I met last week at the local Coeliac Society meeting, coeliacs (and people with dermatitis herpetiformis) have an increased risk of osteoporosis even if keeping strictly to a gluten free diet, and that they therefore need more calcium.
As the mother of a pre-teen coeliac daughter, this is a bit of a worry. Luckily I've always given the children lots of dairy products. But what if you're not keen on dairy products, or are lactose intolerant?
Recommended daily dose of calcium
The standard recommended dose for adults here in the UK is 700mg per day (Food Standards Agency).
However, the UK Coeliac Society is recommending that coeliac adults should take 1500mg per day, and they provide a guide to daily calcium requirements. The guidelines are different in different countries, so you decide what is appropriate for you (ask a dietician if you are in any doubt – I am not qualified to make recommendations).
Age
Daily amount
mg
(CUK)
Daily amount
mg
(US)
1-3 years
350
400-800
4-6 years
450
800
7-10 years
550
800
11-18 years
900
800-1200
Adults
700
800-1200
Adults with coeliac disease
1500
Pregnant women
–
1200
Breastfeeding women
1250
1250
Post-menopausal women
1000
1500
I can't find specifics for children with coeliac disease, but I imagine it is safe to assume that it is higher than the standard recommendation for children, but lower than the adult recommendation.
There are apparently some further, specific, recommendations in the US which you might find helpful:
Age
Daily amount
mg
(US)
Men 25-65
1000
Men over 65
1500
Women 25-50
1000
Women over 50 on HRT
1000
Women over 50 not on HRT
1500
Women over 65
1500
Pregnant and nursing women
1200-1500

Calcium is found in a variety of foods
The richest sources of calcium are dairy products, but also in fish, dried fruit, leafy green vegetables such as spinach, oranges, nuts and tofu.
Food
Amount
of calcium (mg)
1 glass (200ml or 1/3 UK pint) milk
(full-fat, semi-skimmed or skimmed)
250
40g or 1 1/2oz cheddar cheese
250
1 serving carton fruit yoghurt
150
Sardines (2, or 1/2 a small tin)
250
Salmon including bones (3.5 oz of 100g)
100
Portion fortified gluten free breakfast cereal
150
2 slices of calcium enriched gluten free bread
200
1 calcium enriched gluten free roll
250
1 dried fig or 7 dried apricots
50
Portion boiled spinach (3.5 oz or 100g)
150
Shelled almonds (3.5 oz or 100g)
250
1 medium orange
50
Portion of tofu (3.5 oz or 100g)
500
Portion of baked beans (1/4 large can, or 100g)
50
Fortified mineral water (200ml)
50
Being strict about the gluten free diet will increase your absorption of nutrients such as calcium, but do make sure that you are eating enough in the first place. Simply work out how much you should be taking using the tables in the first section, then work out what you need to eat in an average day, using the list above, to get to your recommended total.
Not enough?
Most people don't manage to eat enough calcium. You can take a supplement, but it is recommended that you don't take more than 1500mg by supplement – and don't take more than 500mg at a time, as you won't absorb it all in one go. You might get better results if you take at least part of the supplement at night, and with a glass of milk or apple juice, which can improve the uptake of calcium.

What else can I do?
To be sure that your bones are as strong as possible, you can also do the following:
get some vitamin D. You can get most of this from sunlight, but if you have dark skin or don't see the sun much, you can get it in your diet from margarine, oily fish and some dairy products. (I sense another post coming on soon …)
get some exercise. Yes, I know you've heard this before, but it will help strengthen your bones. Make sure it is weight-bearing exercise such as walking or dancing. Anything where you are bouncing up and down on your feet – swimming won't help in this case.
keep the amount you drink to below the recommended amount
reduce the amount of coffee you drink
… and don't smoke.
I hope that's helpful – more thoughts on vitamins soon.
(So, if one child drinks two glasses of milk and eats one portion of cheese, and one of ice-cream, and has milk on their cereal, and …
| | | |
| --- | --- | --- |
| | | I've written a book summarising what we've learnt over 20 years of dealing with the gluten free diet, and it might be just what you're looking for. It packs the lessons we've learned into what I hope is a helpful and straightforward guidebook. It's available on Amazon, as a paperback or for your Kindle… |