Do you love Italian food?

FlorisFoods are a new family-run business, based in London, with some very tasty products for you to explore and enjoy. Gemma Calia kindly sent a delightful package of goodies for us to try…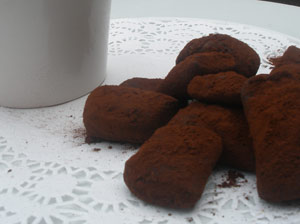 Floris Foods is a shop full of unusual gluten free and wheat free products, both savoury and sweet. Some are very familiar – restaurant staples here in the UK now, such as lasagne, cheesecake, tiramisu and profiteroles, though these are not usually available gluten free – and some are intriguingly new (to us, at least).
Looking at the website, my daughter was immediately taken with the idea of the profiteroles. Our other daughter (non-coeliac) dearly loves profiteroles, and our coeliac daughter looks with envy at her bowls of pastry, cream and chocolate…
Unexpectedly, though, these much desired items didn't prove to be her favourite. Funny how that works, isn't it? I think the cream was too sweet for her taste. Each to their own; I just know some of you will love these.
No: she really enjoyed the savoury items, especially the panzerottini and the quiche.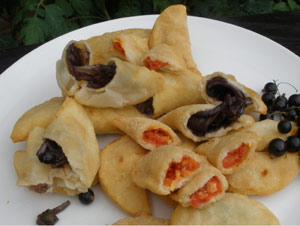 The quiche got a significant thumbs up, especially the nice short pastry, which has a lovely texture (and she particularly liked the smoked bacon version) while the panzerottini disappeared very quickly indeed – she even chose to eat these for breakfast. Look at the picture: you can see these are tiny little packets of pastry, filled with different savoury mixes.
I really liked the biscottini di Anna, and the morsetti al cacao e cannella. These are very sophisticated little treats. The biscottini are light and crunchy, good for elevenses or with a cup of tea mid-afternoon, and the cocoa-dusted morsetti would be excellent with after-dinner coffee, as they have a bitter cocoa flavour – fab!
The tiramisu was a surprising texture for the girl who'd never had it before, but we adults thought it tasted just as you'd expect, with a lovely smell of marsala and coffee: very grown-up.
We tried the bigne shells (think shells of choux-style pastry) without sweetened cream, but with a hot chocolate sauce, and thought they worked well. My expert panel of diners thought you wouldn't know they were gluten free – so we'd use these to make profiteroles, or fill them with something savoury. Both would work.
Based on our tasting, we can recommend Floris Foods, whether you're a sweet or savoury fan. They also offer meals: melanzane ripiene and peperoni ripieni look particularly good to me – you could even order a three course meal! Delivery is, as always, expensive, so you would need to order enough to make the delivery charge smaller in proportion to your order…
Floris Foods also cater for parties, weddings and events, and this would be a great business route for them to go down, as many of these products are suitable for freezing. It seems to me that if you were a business that occasionally needed to cater for coeliacs – perhaps conferences – it would be a good idea to have some of these available to call on.
My daughter's favourites were the panzerottini and the quiche, and she was very impressed with the various pastries used in the different dishes. As you know, gluten free pastry isn't always easy to create! My favourites were the biscottini and the morsetti, though as a home cook the bigne shells and gluten free breadcrumbs are definitely products I'll note for the future.
I'll be ordering again. Do have a look at their website (www.florisfoods.com), and if you order from them, let us know what you thought.
| | | |
| --- | --- | --- |
| | | I've written a book summarising what we've learnt over 20 years of dealing with the gluten free diet, and it might be just what you're looking for. It packs the lessons we've learned into what I hope is a helpful and straightforward guidebook. It's available on Amazon, as a paperback or for your Kindle… |