Oo, exciting – the winners of the Free From Foods Awards were announced last night!
It's a long, long, list, and you can read more about all the awards here. Here's my selection of award winners that we've either tried ourselves or that I'm looking forward to trying in the future.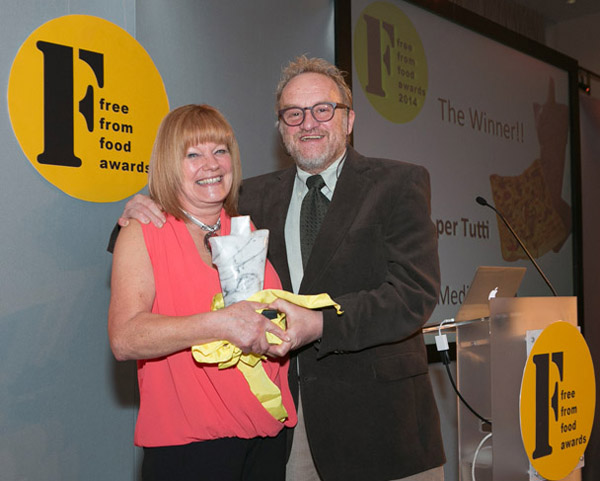 Overall Winner
Overall Winner of the FAIR trophy for Best FreeFrom Food 2014
Focaccia Per Tutti (Focaccia Mediterranea)
The judges said:
'Stunning! Ticks all of the freefrom boxes and yet looks – and tastes – like an authentic and delicious focaccia. How did she do it!' 'Excellent aroma, good crust and lovely classic Mediterranean flavours – olives, garlic, tomatoes, rosemary.' 'Fantastic that it is free of all allergens except nuts.' 'Really filling a gap in the market – love it! Want more!' 'A worthy winner in terms of both innovation and quality.'

We say:
We've so got to try this!
Runners Up
Amy's Kitchen Broccoli and Cheddar bake

The judges said:

'Visually appealing, lovely taste and texture. All elements work well together – a very, very good product.' 'Excellent. Good al dente pasta, lovely al dente green broccoli, well flavoured sauce and great crunchy top. What's not to like?!'

We say:

We've tried this, and its a great freezer fallback for those days when there just isn't time to cook.

Bessant & Drury Raspberry swirl frozen yogurt

The judges said:

'The best coconut product I have tasted – lovely mouthfeel and raspberry flavour comes through well.' 'Excellent freefrom qualities and good live cultures – very tasty.' 'Fab dairy free, fab texture, fab taste!!'

We say:

We haven't tried this because we don't need to be dairy free in our house, but maybe we should; I'll look out for it.

Tesco Free From fresh seeded bread

The judges said:

'Excellent everyday loaf – good texture, lovely seeds and a better ingredients list than most!' 'Light, tasty and really hard to believe that it is gluten free.' 'Really good seeded loaf – perfect for sandwiches.'

We say:

It's good to be able to pick up a decent gluten free loaf in the supermarket.

Waitrose Gluten free egg watercress and chicken salad roll

The judges said:

'Look wonderful – great lookalike for a normal filled roll.' 'Very good product – great to see a vending product of this nature – faultless innovation.' 'Fresh and well executed – what a treat – and in a mainstream outlet too!'

We say:

We haven't tried this yet, but we'll look out for it. It would be good to be able to pick up gluten free sandwiches easily.
The Innovation Award – Sponsored by Food Matters Live
Winners: Venice Bakery large seasoned gluten-free vegan pizza base
The judges said:
'Fabulous pizza base – excellent freefrom properties – very innovative.' 'Great product for multi-sensitives.' 'Good crisp crust and great flavour because it is thin – if a little sweet.'

We say:
We tried this at the Allergy and Free From Show last summer, and liked it so much we bought some to bring home.
Commended:
Newburn Bakehouse Seeded wraps
Udi's Cinnamon & raisin bagel
We say:
We regularly buy both these. Fabulous additions to the range of gluten free food available in the supermarket.
'Food to go' and food for vending machines – Sponsored by 24Vend
Winner: Waitrose Gluten free egg watercress and chicken salad roll
The judges said:
'Delicious moist rolls (so many gf rolls are dry). Generous, nutritious and tasty filling – what a pity it isn't dairy free as well. Excellent on-the-go food.' 'A delicious vegetarian sandwich (egg and cress) – really satisfies the need of people looking for gluten free and vegetarian lunch options. And they look great. Love all that cress.' 'Generous portion and a well balanced mix of salad, mayonnaise and chicken.'
Highly Commended:
Great Food Spinach & pinenut with houmous – snack pack
Hotch Potch Eggs Arancini
We say:
This all sounds fab; and anything that makes it easier for coeliac daughter to find food she can eat while out and about is good by me.
Foods designed for food service – Sponsored by Genon Laboratories
Winners:
The Indian Coeliac Gluten free authentic Panjabi pakoras
We Love Cake Gluten free cherry Bakewell tarts
We say:
Again, we tried – and bought – the pakoras last summer. We hope this category just keeps getting stronger; the easier it is to eat out as a coeliac, the better.
Do go and check out the full list of recommended products – and then try them! Let me know what you think…
| | | |
| --- | --- | --- |
| | | I've written a book summarising what we've learnt over 20 years of dealing with the gluten free diet, and it might be just what you're looking for. It packs the lessons we've learned into what I hope is a helpful and straightforward guidebook. It's available on Amazon, as a paperback or for your Kindle… |