Gluten free breakfast is something we've struggled with over the last couple of decades – but not at the moment!
I've mentioned them before but Nestlé's gluten free honey cornflakes are proving to be a huge success for us. Coeliac daughter (a student living away from home these days) says
"they changed my breakfasts – I have good breakfasts now"
I did challenge what she meant by 'good' (Yummy? Healthy? Big?) and she said
"yummy, mostly healthy, and something that will keep me going"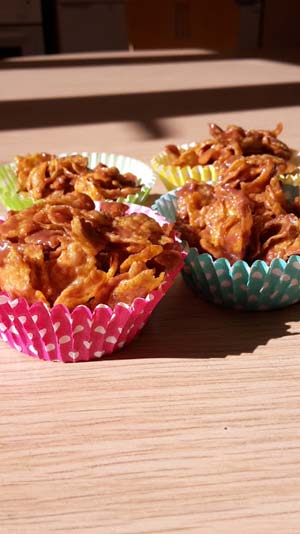 She has the honey cornflakes every day for breakfast with milk, orange juice and a banana.
She also has cornflakes again in the evening as a snack…which does explain why every time she comes home, or we visit her, we strip the shelves in our local supermarket of boxes of the honey cornflakes, as she hasn't found anywhere local to her that stocks them. She must be going through a couple of boxes a week… And no, I'm not worried about her not eating properly, as I know that she cooks a proper meal in the evenings as well!
She also really likes the Genius Pains au Chocolat, which I buy as a special treat for her occasionally: they've been very hard to find, and are a bit expensive for a student budget.
The are delicious, though, and truly remarkable – it really isn't easy to make that kind of pastry, and these are not only gluten free, but also dairy free. No wonder they won the breakfast category, and were runners up in the innovation category of the Free From Foods Awards this year. (We had no idea they were dairy free until then.)
I wish that both these products were more easily available – both easier to find in store, and available in more shops across the country:
The honey cornflakes are not shelved with the other gluten free products, and nor are they shelved with other cornflakes (oddly) though the plain ones are. I've looked in various Tesco shops and in Sainsburys. It is necessary to play 'hunt the honey boxes' a bit, but they are worth looking for
And the pains au chocolat are obviously so popular that the shops that do stock them can't keep them on the shelves. So if you see them, grab them! (Unless you live near us, obviously, in which case please leave them there for us to pick up(!)
The crispie cakes you see in the picture above were made in coeliac daughter's student flat from Nestlé's plain gluten free cornflakes. Pretty, aren't they? She loves to bake, and her cakes get snaffled very quickly by her flatmates – yes, even though they are gluten free!
***
(Both Nestle and Genius sent us samples to try, but we are regular buyers of these products anyway, so our comments aren't biased by receiving the samples)
| | | |
| --- | --- | --- |
| | | I've written a book summarising what we've learnt over 20 years of dealing with the gluten free diet, and it might be just what you're looking for. It packs the lessons we've learned into what I hope is a helpful and straightforward guidebook. It's available on Amazon, as a paperback or for your Kindle… |