I don't know if you've been over to Only Sometimes Clever to admire her GFCF gingerbread house – if not, you should.
We used her recipe for GFCF gingerbread dough to make a nativity scene, using cutters available here (thanks Karen for sharing a US link – mine came from somewhere like Tridias or Great Little Trading Company years ago – they don't sell them now).
Well, when I say 'we', what I mean is that my 12-year-old coeliac made the dough and then cut out and baked the shapes. She and my other two (both younger than her) then 'decorated' the shapes and stuck them together. Completely unsupervised. In fact, they had a sign on the kitchen door that said 'no entry until 4pm'.
This is what they were doing: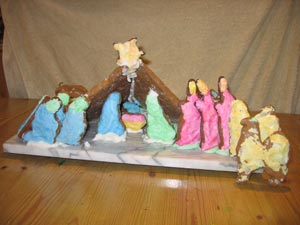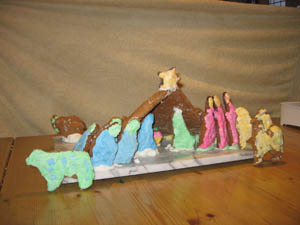 It isn't how I'd have done it, but I don't think that matters. I'm delighted with this colourful nativity scene – and it smells wonderful.
Have you spotted the green cow, the yellow camels and the sheep out behind the stable? There's a donkey in there too, somewhere …
| | | |
| --- | --- | --- |
| | | I've written a book summarising what we've learnt over 20 years of dealing with the gluten free diet, and it might be just what you're looking for. It packs the lessons we've learned into what I hope is a helpful and straightforward guidebook. It's available on Amazon, as a paperback or for your Kindle… |