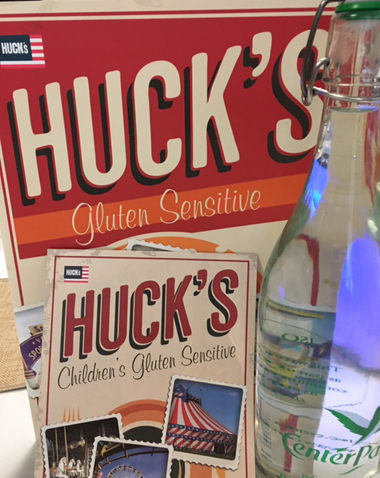 In 2014, James Haywood, the Group Executive Chef at Center Parcs, decided to live as a coeliac for four weeks, to find out what it was like.
Going gluten free for a month clearly helped him understand some of the issues that coeliacs face, and he came up with the following principles for Center Parcs:
offer a specific gluten free menu
offer delicious food that everyone can enjoy
offer gluten free beer
work to make those small tweaks in the kitchen that make a big difference to coeliacs.
I was invited by Center Parcs to a gluten–free tasting at their Woburn Forest village, and although I didn't try any gluten free beer, I can confirm that the other three principles have been adopted.
We tasted food that had been developed for some of the Center Parcs' own restaurants (Huck's American Bar and Grill, The Pancake House and Sports Café), and saw dedicated gluten free menus for all three restaurants (Hucks has dedicated gluten free menus for both adults and children, which I thought was a great touch) – and the food was excellent.
Visiting Center Parcs
Now I've never been to Center Parcs before, so didn't really know what to expect (it's big!), and managed to get lost on arrival, ending up in the hotel rather than the conference venue. However, I was rescued by Alan, who saw that I was lost, asked if I needed help, and took me to where I was meant to go – chatting to me on the way about Center Parcs and how much he enjoyed working there. Thanks, Alan: great customer service, and a good way to be introduced to the ethos of Center Parcs.
I arrived in the middle of a conversation about the release that day of some rescue hedgehogs into the woods in Centre Parcs, about the work that goes into maintaining the woodlands in which the village sits, and about the wildlife that is supported by that woodland. My kind of place…
Eating gluten free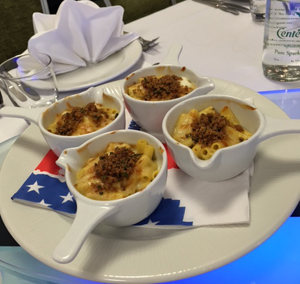 But you really want to know about the food, don't you?
We were offered 17-18 different dishes to taste; the extra one was some gluten free fish fingers that were prepared specifically for the children among us, and these went down really well.
And how very sensible of Center Parcs to include some children among their tasting panel, since Center Parcs is primarily a family destination (though they do offer conferencing facilities, and quite a few couples choose to holiday there too).
17 separate dishes… Happily, the adult dishes were miniature portions! I didn't try everything, because I don't eat meat, but I can tell you that I particularly enjoyed:
Macaroni cheese (gluten free macaroni, with gluten free breadcrumb topping). This was, perhaps the favourite savoury dish of the day; James (the chef) came out to talk to us afterwards – apparently the key is to follow the pasta manufacturers instructions exactly and to add stilton and parmesan to bring out the cheese flavour
Hot cheese, baby artichoke and spinach dipping pot (with gluten free nachos).
Gluten free fish and chips (batter made with Daura Damm gluten free beer and Doves Farm self-raising flour); the batter was light and crispy, and very tasty. Coeliac daughter just loves gf fish and chips, and will choose this for preference if it is available anywhere we go
Grilled Cajun swordfish salad with roasted garlic and lemon dressing; this is one of those dishes that is naturally gluten free (though do check the spices), but it was good!
Prawn fajita shells; an unusual dish to find gluten free, and it worked well
Flourless chocolate torte with raspberry compote; everyone thought this was outstandingly good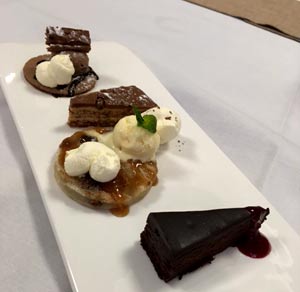 A couple of the dishes didn't work so well, because they'd been made in miniature which had caused some problems – for example, the tiny pancakes weren't as good as I'd hoped – but I was assured by a couple of the other visitors that they'd tried the gluten free pancakes at full size, and that they were good.
And the meat-eaters told us that the BBQ wings and the mustard-brushed pork loin with hasselback potatoes and sour cream were particularly good.
Cooking gluten free
After we'd eaten, I wandered down to the supermarket, to see how a coeliac would manage if they'd forgotten to take some basics with them. I know, not likely, but just in case…
There's a reasonable range of specialist gluten free groceries: pasta, bread (but only Livwell), cakes, biscuits, rice cakes, breakfast cereals and some Amy's tinned foods – but I didn't see any gluten free flour or baking powder. And I forgot to check for gluten free beer (sorry!).
With those basics available, I'm sure that you'd be able to prepare meals for coeliacs from scratch from the rest of the supermarket provisions if you didn't want to eat out every night. And I imagine that, like us, if you have particular needs you'd take your favourite items with you.
Summary
There was a joke made on the day about the collective noun for bloggers – a chat of bloggers? An opinion of bloggers? It was certainly entertaining to see that the bloggers all leapt to their feet to take pictures of each new dish as it arrived – the non-bloggers just laughed at us…
Either way, it's always interesting to get a group of gluten free bloggers together and it was good to see that we agreed on a great many things from the big (the issues faced by coeliacs) to the small (the best doughnuts? Borough22. The best wraps? BFree. And so on). I came away with new ideas, too!
I hope that Center Parcs found our comments and suggestions both welcome and useful. It must have been reassuring for them that their visitors agreed on so many things, and we suggested a variety of other menu items we'd like to see and brands that they could look at. I also think the gluten free menus (and the lactose free menu, and the vegan menu) should be available from the website, rather than just on request, so that people can check in advance. I think Center Parcs said that they would be… but they're not there yet.
It was clear to me that Center Parcs had put a great deal of effort into adding gluten free items to their menus, and to thinking through how to make a Center Parcs break better (more manageable; safer; more delicious) for coeliacs. Good for them! If any of you have been gluten free at Center Parcs, do let me know how it went…
***
Update: I've just realised I last wrote about being gluten free at Center Parcs back in June 2007. Things have obviously changed a bit since then; but it was a successful trip back then too!
| | | |
| --- | --- | --- |
| | | I've written a book summarising what we've learnt over 20 years of dealing with the gluten free diet, and it might be just what you're looking for. It packs the lessons we've learned into what I hope is a helpful and straightforward guidebook. It's available on Amazon, as a paperback or for your Kindle… |