I've been intrigued by these companies for a while now, though there are none here in the UK, so I'm not sure how they would work in practice …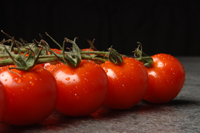 The idea is that you schedule a session to prepare a number of meals to be frozen at home, picking the meals from a monthly menu. The company prepares the ingredients for you in advance, you collate the ingredients, mix and prepare the meal, then package it up with cooking instructions – and drop it into your freezer when you get home.
The meal, here, usually means something like 12 meals to feed six, or 24 to feed 3. That's quite a lot of freezer space needed, and I don't suppose it's cheap. But the benefits are no shopping, chopping or washing-up.
Now that is quite appealing. But how easy is it to create gluten free meals?
I've looked at 10 of these sites (links go to a menu for this month, June, where possible). All of them indicate that the meals can be customised, but this is usually accompanied by an example of more/less onion/chilli, not the rather broader customisation that might be needed for a special diet.
A little more work needed on celiac awareness, perhaps. Dream Dinners or Dinner by Design look like the best options, as far as I can see, though obviously since these are set up as franchises, it may vary a little by location.
In theory, of course, I could dedicate a day or two at the beginning of the month to batch-cooking meals for the month, and then freeze them. Some people do this, and I can see that this would free up a lot of time later. But the best I've ever managed, is to cook twice as much as we need for a meal, and freeze half. Then, of course, it gets forgotten in the freezer …
| | | |
| --- | --- | --- |
| | | I've written a book summarising what we've learnt over 20 years of dealing with the gluten free diet, and it might be just what you're looking for. It packs the lessons we've learned into what I hope is a helpful and straightforward guidebook. It's available on Amazon, as a paperback or for your Kindle… |