Anybody got a celebration coming up?
If you do, you should definitely have a look at the most amazing celebration cakes available from Bewitching Elegance. Diane is a cake artisan specialising in lavish designs using innovative techniques and creates traditional cakes – but also vegan and gluten free ones. Yay, Diane!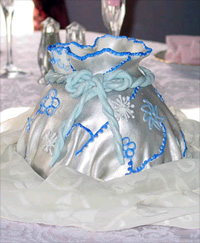 I'm always impressed by people who can produce such beautiful creations. I can bake and ice cakes (I've just volunteered to make this year's Christmas cake for our family gathering of about 25) but I don't have the skill (or patience, creativity, dexterity …) to come up with anything even half so impressive. My cakes always look homemade!
Do go and look. I particularly like the one with seahorses on, because my fish-mad son would so enjoy it – but they are all astonishing.
Sadly, because cake doesn't ship well across the Atlantic, we'll probably never see them. But some of you could …
I have found these wedding cake artists here in the UK, who can provide gluten free cakes, and seem to be working with the same kind of artistry as Diane: Rainbow Sugarcraft and Maisie Fantaisie.
Now, who do you know who deserves a really special gluten free cake?
| | | |
| --- | --- | --- |
| | | I've written a book summarising what we've learnt over 20 years of dealing with the gluten free diet, and it might be just what you're looking for. It packs the lessons we've learned into what I hope is a helpful and straightforward guidebook. It's available on Amazon, as a paperback or for your Kindle… |