Carol Fenster, author and consultant on food sensitivities, has a new book coming out very soon (Aug 2), called Gluten Free Quick and Easy. She was kind enough to spend time answering some questions for me, which I thought I'd share in full with you.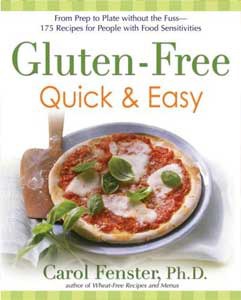 On difficulties with wheat
When did you realise that wheat was a problem for you?
I had frequent sinus infections most of my adult life. They worsened and I was frequently too sick to go to work, so a co-worker urged me to see an Ear, Nose, and Throat (ENT) specialist. When he didn't find any structural abnormalities in my sinuses, he referred me to an allergist. I was in my early 40's by this time and had lived with the sinus infections (requiring antibiotics every time) for nearly two decades. At times, I was taking antibiotics for a continuous year.
Did you find it a difficult transition from a wheat-based diet to one free from wheat?
At first, yes, because it seemed that every cupboard in my kitchen was off-limits to me. It was especially challenging because I grew up on a wheat farm, married into a wheat-farming family, and my diet was composed of lots of baked items. But as I gradually replaced my favorite wheat-laden dishes with safe versions, I now live a gluten-free lifestyle fairly easily and don't miss the old days because I appreciate being so much healthier.

Is there any food that you particularly miss?
I miss filo or phyllo dough and pastry shells that were so easy to prepare.
Would you go back to a wheat-based diet if you could?
I wouldn't go back to the way wheat dominated my diet back then because I know that I should have been eating more fresh fruits, vegetables, and whole grains. Back then, I often reached for a bagel, or crackers, or a slice of bread when I was hungry. Going on a gluten-free diet was actually a wake-up call to improve my diet and lower my caloric intake as well. For example, we went out to dinner last night before seeing Cirque du Soleil and, as usual, my husband ate several slices of bread before his entree arrived. I sat there smugly knowing that I wasn't ingesting all those unnecessary (high-carb, low-fiber) calories.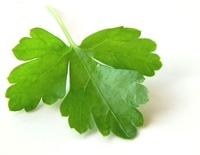 On cooking

What is your favourite gluten free recipe – is there something you regularly eat at home, or a reproduction of a gluten-full dish you are particularly proud of?
My favorite gluten-free recipe is Pizza and there is a fabulous recipe in Gluten-Free Quick and Easy. I prepare it often for my family and guests and they are more impressed by the fact that it is homemade pizza than they are by the fact that it is gluten-free. They say it is so good that they can't differentiate it from the real thing. That, of course, is the ultimate complement.
What is your favourite piece of cooking equipment?
My food processor is undoubtedly my favorite appliance. It does virtually everything and is especially good for blending ingredients very quickly and thoroughly. I make pie crusts, cookies, pizza crust, grind nuts, make cake batters, etc. in it.
Do you have a favourite cookbook (apart from your own, of course!) or do you tend to cook by eye?
I didn't own a cookbook when I got married nearly 40 years ago, partly because most of my recipes were in my head, or "by eye" as you say. A few years later I attended a cooking class sponsored by McCormick spices and received a little paperback book that was eventually in tatters because I used it so much. Later, I bought the hard cover version and refer to it almost every day. It's called Spices of the World by McCormick and remains my favorite cookbook because of the flavorful ways it uses spices and herbs. Today, I have hundreds of cookbooks which I use as reference tools and for inspiration.
What is always in your fridge? What is your single most-used ingredient?
The basics for baking: milk, eggs, yeast, butter, plus as many fruits and vegetables as possible. The single most used ingredient is my sorghum flour blend because it is the foundation of all of my baking.
I've realised over the last year or so that although we here in the UK tend to use flour blends provided by the health service rather than mixing our own, in the States people tend to prepare flour blends themselves. Do you have a favourite flour blend?
We don't have any government-provided gluten-free flour blends. I use a flour blend made of 1 ½ cups sorghum flour, 1 ½ cups potato starch, and 1 cup tapioca flour (or starch) as the foundation for all my baking and then add other ingredients to it to make it perform in various ways for different recipes. Increasingly, we can buy flour blends in the store. In fact, I developed one for Bob's Red Mill that is quite popular.

Do you have a top tip for people new to wheat issues?
Gather as much reliable information as possible about what you can and can't eat. In the U.S., we use www.gluten.net and www.celiac.com and www.clanthompson.com (software database of safe foods) as good reliable sources. Once you know what the gluten-free diet is, learn to read labels to find safe foods and ingredients. The new U.S food laws require that wheat be stated on the food label, but other gluten-containing grains such as barley, spelt, kamut, or triticale will be stated in the ingredient list as well. Then get in the kitchen and start cooking. The more you cook, the better you will be at it.
What do you serve at Thanksgiving (or other major festival, such as Christmas, which would be the big food festival here)?
At the holidays, I serve turkey, stuffing (made with gf bread or cornbread) gravy (thickened with sweet rice flour or cornstarch), pumpkin pie (with a gluten-free pie crust) and candied sweet potatoes. I like to make my easy French Bread, too.

Do you ever have a culinary disaster?
Several. I once poached unripe pears, thinking that poaching would soften them. My guests couldn't even cut them with a knife and fork. Another time, I leaned over to smell the coffee I added to whipped cream (to make it mocha-flavored) and my long hair got caught in the beaters. Before I knew it, my head was slammed into the mixer and I had to cut my hair to get it out of the beaters. I threw away the whipped cream, of course.
On your career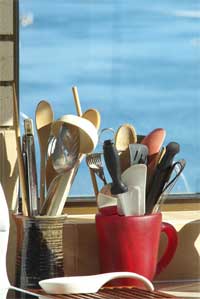 I see you have a degree in Home Economics. Did you learn to cook as a child? Have you always been interested in food?
I was always interested in food, even as a child, mostly because I loved to eat. I started cooking by the age of 10 or 11 and I think my first dish was Cornflake Cookies. I watched my mother and my aunts to learn techniques, but none of them used many cookbooks. The few recipes that my mother used were little pieces of paper stuffed into a shoebox, not formal cookbooks.
I majored in Home Economics but it wasn't food-related. I wanted to be a fashion merchandiser and work in retail with lovely clothes so my classes were not related to cooking all that much.
How do you research a recipe book? Do you start with a theme, or does a theme become apparent as you find interesting recipes?
I started with my family favorites and converted them to be gluten-free. But since there were so few gluten-free cookbooks in the early 1990's I knew my books had to be general, comprehensive, and basic, rather than focusing on one theme or region. I've followed that model for all of the successive books, that is, they all have main dishes, breads, breakfast dishes, desserts, soups, grains, etc. etc. At the time I started writing cookbooks, the Internet wasn't available as it is today, so I studied classic cookbooks such as The Joy of Cooking. But none of those books had much information on gluten-free cooking, so much of my work was trial and error. I took inspiration from meals in restaurants, as well. Today, I get inspiration from my travels abroad, also.

Do you – or your family – get bored of testing the same dish over and over?
Some days can seem quite repetitive if the recipe doesn't work and I have to make it over and over again. I fret over lost time when I have to make a recipe over and over, knowing that other recipes have be tested later. I'm working on a HUGE book right now called 1000 Gluten-Free Recipes (Wiley, Fall, 2008) and it is taking a great deal of my time. One day I thought I could master Ladyfingers very quickly, but I ended up making them 6 times that day so yes I was a little frustrated. But in the end they turned out just great, so I guess it was worth the time. I always learn a lot when I have to make a recipe over and over again.
What do you enjoy most about your work?
The creativity and application of science and chemistry to a real-life issue: the food we must eat to stay healthy. I love making a recipe work and watching it turn out perfectly and look just like normal food. I feel successful when that happens and I love eating it.
Why did you decide to change career and focus on food sensitivities?
I knew that I always wanted my own business, but I also knew that I had a lot to learn from the various stages of my career. I started out in academia as a professor, then went into the business world as a marketing executive. When my food sensitivities grew worse, I knew I had to get control of my life. Being in marketing as I was, I saw a need that wasn't being met and realized that I could meet that need for gluten-free cooking information with the knowledge I was gathering for my own diet. In 1988, however, I had no idea how large the gluten-free population would be eventually be or that it would be the world's most prevalent genetically transmitted condition.
You're clearly the go-to person for many manufacturers on food sensitivities – how did that come about?
I attend trade shows and got to know some of the manufacturers and eventually they began asking me to help them or develop their products for them. I wrote a cookbook a year for several years and that may have gained me some recognition as well. I'm also an expert in using sorghum flour and that has led to consulting in Japan and Italy because those countries want to use sorghum as well. In fact, I'm going to Naples, Italy in September to share my knowledge about using sorghum in making food for celiac patients.
You've done a lot of travelling – which countries are easiest for you to eat in?
Abroad, the UK is easiest because of the language. Second easiest are those countries whose languages have similar roots to Hispanic (which is spoken a lot here in Denver, CO). So, Italy is very easy for me. I'm going to Spain in a couple of months, so that should go well. I also know a little German (Fenster is window in German) so Germany and Austria (where I was last fall) can be handled fairly well. I've learned to just avoid anything suspicious and I seek out their health food stores as soon I as arrive in town to stock up on a few foods for snacks, etc. I am quite happy with grilled fish and vegetables and tend to avoid starches unless I am totally certain about their safety. I also take a few foods with me such as dry cereals, dried fruits, nuts, etc. for snacks. Japan is very hard unless the waiters speak English because the language is so difficult to master. When I consult there, I go to a Wolfgang Puck's restaurant a few doors from my hotel and can eat safely there.
What next? Do you think there will ever be space for a cookery series on television covering gluten free foods? (Perhaps there is one in the US – there certainly isn't here in the UK!)
We don't have any television shows that focus on gluten-free foods. I once taped 9 episodes for the Health Network on allergen-free cooking and taped 4 episodes last February for the Public Broadcasting System (PBS) that should air this fall. But no series that I'm aware of deals specifically with food sensitivities. The Food Network asked me to prepare a page for their web site this fall on gluten-free cooking, but hasn't asked me to appear on any TV shows. Maybe someday…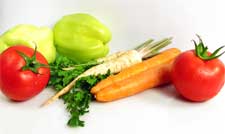 And finally …
What trends do you see for the future of the gluten free world?
Once the FDA decides on the definition of gluten-free in the U.S., we will see more companies entering the gluten-free market. That decision comes in August, 2008. I think that eventually we'll accept gluten-free diets as readily as we accept diabetic diets, but it will take awhile. I see many more new ingredients that make gluten-free baking and cooking more successful (such as Expandex, a modified tapioca starch from Corn Products that improves the texture in baking).
I envision more blogs on gluten-free issues, more information sources (e.g., I write a monthly newsletter called Carol's Culinary Cues) and more gluten-free companies are sending out newsletters to consumers, and more articles in women's magazines.
I see more travel options that focus on gluten-free diets. Nearly 7 years ago, I helped coordinate a gluten-free week in Tuscany for a dozen people. We had cooking classes at a hotel, tours, and stayed at a lovely villa that prepared some gluten-free dishes for us. Two years ago, a tour operator organized a tour of northern Italy for both gf and non-gf travelers. The agreement was that if a restaurant couldn't serve everyone, then we would go to another restaurant. As it turned out, we never had to leave a restaurant because we couldn'g gluten-free food. I know many cruise lines will provide gluten-free food onboard.
Do you think it is getting easier?
It is definitely getting easier to eat gluten-free, the information is becoming more reliable, restaurants are cooperating, there are more health food stores that carry gluten-free products, and more physicians accept the fact that celiac disease is NOT a rare condition. As public awareness grows, people will become more accepting and accommodating.
And the question my 11-year-old coeliac daughter wanted me to ask: do you have a good recipe for pain au chocolat?
I'm not sure what that is, but if it is like a chocolate croissant, unfortunately no.
---
Many thanks to Carol for her very detailed responses to my questions.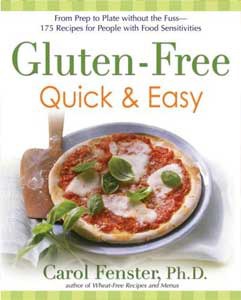 I'm planning to review her new book very soon – and you should be able to pre-order it at www.amazon.com
or at www.amazon.co.uk
(aff). Publication date is 2 August, so not long to wait …
| | | |
| --- | --- | --- |
| | | I've written a book summarising what we've learnt over 20 years of dealing with the gluten free diet, and it might be just what you're looking for. It packs the lessons we've learned into what I hope is a helpful and straightforward guidebook. It's available on Amazon, as a paperback or for your Kindle… |