I invited Chris Bekermeier to write a guest post today, discussing packaging. Chris is based in the US, and so is discussing packaging in the US, but the issues are the same wherever you are. I'm certainly going to be investigating wheat-based packaging here in the UK after reading his article… please feel free to add your views in the comments.
Over to you, Chris!
***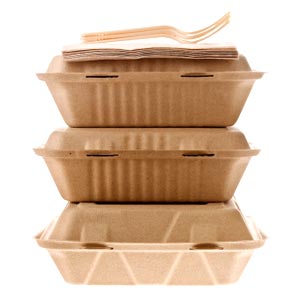 When you're going gluten-free, ingredients matter. However, another big question you should be asking both yourself and the stores where you buy your food is, "Is the packaging gluten-free?" Whether you're an old hand at living without gluten or just beginning to go gluten-free, you likely know how to check the ingredients of what you're buying. The problem is whether or not the packaging itself is free of gluten, and many people aren't aware that it may not be.
Gluten is a protein found in wheat, barley, and rye, and is used as a thickening agent and for flavor in many pre-packaged foods. While the majority of these foods list their ingredients on the packaging, new innovations in "going green" encourage companies to make the packaging itself out of wheat. In 2004, researchers at California's Agricultural Research Service Western Regional Research Center teamed up with EarthShell to look into the manufacture of wheat-based packaging. They found that wheat-based packaging is fairly simple to make and much better for the environment, but didn't address the question about whether or not this packing would be gluten-free.
In 2011, Bio-Mass Packaging, in partnership with Bridge-Gate, offered a line of biodegradable wheat-based packaging containers specifically for takeout restaurants and caterers. Unfortunately, these can be especially harmful to customers with gluten and wheat allergies because they have no idea that the takeout food they are bringing home is held in a container made from wheat paste.
Being aware of gluten in packaging also extends to being aware that the packaging and the food may be cross-contaminated by the machinery used during manufacturing. Current labeling laws do not require a manufacturer to declare what is used to produce the packaging material so this does not appear on the label, leading consumers to believe that they're safe when they may not be. Fortunately, some companies, such as Bob's Red Mill Natural Foods, make an extra effort to avoid cross-contamination. On its website, the company states, "To assure the integrity of all of our Gluten Free products, we adhere to a standard of no more than 19 parts per million of gluten. We've even built a separate Gluten Free packaging division complete with specialized machinery to make sure that our products maintain their purity–just as nature intended."
Knowledge about gluten-free foods and packaging is also required when you go on vacation, especially to another country. Although the brand may be familiar, the packaging and the machinery that constructed it were likely different from what you purchase at home and could be contaminated. If you experience especially bad reactions to gluten, it may be prudent to bring special foods with you and cook your own meals, rather than trust that the foods you buy elsewhere – and their packaging – are safe and gluten-free.
Being alert and informed is, as always, the best way to keep yourself and your loved ones safe when consuming any type of food that may contain gluten. Don't be afraid to ask questions or research wheat-based packaging and its possible negative effects to those on a gluten-free diet. When it comes to being gluten-free, it's more than just ingredients that matter.
Thanks Chris!
Chris Bekermeier is Vice President, Sales & Marketing of PacMoore in Hammond, IN. PacMoore is a contract manufacturer focused on processing dry ingredients for the food & pharmaceutical industries. Capabilities include blending, spray drying, re-packaging, sifting, & consumer packaging.
| | | |
| --- | --- | --- |
| | | I've written a book summarising what we've learnt over 20 years of dealing with the gluten free diet, and it might be just what you're looking for. It packs the lessons we've learned into what I hope is a helpful and straightforward guidebook. It's available on Amazon, as a paperback or for your Kindle… |