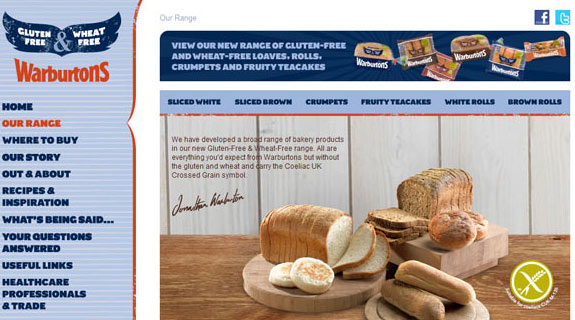 Have you seen Warburton's new gluten free (and wheat free) bread range on the shelves yet? I'm going to need to go to the supermarket soon, and I'll definitely be looking out for this.
Warburton's invited me to their launch breakfast on Friday, where we were offered not only the new white and brown gluten free bread, but also fruited tea-cakes and crumpets. The bread and rolls should be available on the shelves near you – if not now, then very soon – and the teacakes and crumpets are 'coming soon' . You can look for the store nearest to you at the new Warburton's gluten free site, where there's a handy tool for finding your nearest stockist.
I think this is a really exciting development. Not just because – as you know – we always like to find new gluten free products, and because I'm all in favour of increased choice, but because this is a mainstream baker getting involved in the gluten free market.
Main-stream baker? For those of you not UK-based, Warburton's is perhaps the biggest name in 'normal' branded bread here in the UK, with 32% of the market back in 2009. (They were aiming for 40% in 2010…)
You and I know that not only is Free From a big market – Mintel estimate that here in the UK, the size of the Free From market will be £280m by 2012 – but it affects the whole of family life. I do my weekly supermarket shop based on where I can find the best Free From product range; we're a family of 5, and so my supermarket bills are quite high. If the supermarket doesn't cater for my daughter, not only does it not get her 'food-budget' shopping – it doesn't get any of ours either. So I think the knock-on effect is significantly greater than £280m. Not surprisingly, supermarkets and the big mainstream suppliers want a part of that.
And the big companies have the financial muscle to make it viable. I learned on Friday that the basic ingredients for gluten free bread are at least twice as expensive as those for normal bread – just one of the many reasons why gluten free bread is so expensive. Another reason is the risk of cross-contamination. We all want to be sure that the food we eat is safe, and many coeliacs won't touch a product if they have any concerns at all. Warburton's have been able to set up a dedicated gluten free factory up near Newcastle, so there's no worries on that score.
I know that a mainstream competitor is difficult for the small, artisan producer of gluten free products, because they can't compete on economies of scale; they have to differentiate in other ways, on taste or variety. However, I am still pleased to see this development because it means:
it will increase awareness. Products with a mainstream brand attached will help confirm to others that coeliac disease is real, it does matter, and it isn't an insignificant niche market. I'm not being fussy when I ask for safe food for my daughter.
it makes it easier for people to feed my daughter. Assuming that the products remain available across the country, it is easy for parents of friends as well as organisers of school trips and other caterers to provide bread products. (I did ask Warburton's about ready-made sandwiches to buy, as an obvious brand extension, and they did say they'd already thought of that – watch this space, I guess).
big companies have the clout and resources to spend ages (four years so far) getting products right. I'm looking forward to the soft gluten free wraps that Darren (Head of Innovation) talked about on Friday…
Their aim is to make gluten free foods that 'normal' eaters would find acceptable, so that, for example, my whole family could eat gluten free without noticing. While a nice idea, I think that the cost implications are too great (for my family, at least). However, if suppliers can produce 'lookalike' foods, so that my daughter can eat something that looks the same as food her friends are eating, that is of huge psychological benefit to us.
Do check the products out next time you're in the supermarket. You'll find them in the Free From area rather than in the mainstream bread area. And the packaging is interesting too – it looks very like 'ordinary' bread packaging. Do let me know what you think!
In the interests of full disclosure, I should tell you that Warburton's bought my train ticket to London, and gave me a bag of products to take home for my daughter to taste (including Phil Vickery's latest book – of which more another time). I hope you know that my comments are always unbiased by such gifts.
| | | |
| --- | --- | --- |
| | | I've written a book summarising what we've learnt over 20 years of dealing with the gluten free diet, and it might be just what you're looking for. It packs the lessons we've learned into what I hope is a helpful and straightforward guidebook. It's available on Amazon, as a paperback or for your Kindle… |