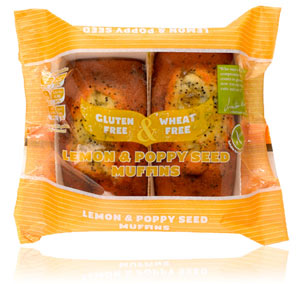 Back in November, I was invited up to Newcastle by Warburtons to visit their gluten free bakery. We were also given the opportunity to taste their newest products: muffins.
These were still secret at that time, so I couldn't tell you about them, but we were delighted by them at the tasting; they have now been launched onto what should be a grateful gluten-free market.
I couldn't go to the launch event at the end of January, but they kindly sent me a sample of the blueberry and cranberry muffins as a reminder. They're just as good now as they were then. I especially love the lemon and poppy seed ones, but they are quite grown-up and lemony, so your gluten free child might prefer the blueberry ones. There's also a fruit loaf, which is good hot and buttery, but I'm a big fan of the muffins.
These are little loaf-shaped cakes. I usually think that muffins are too large and dry, but these are fab: moist, with a good quantity of 'bits' to cake. Not too large, and delicious.
I know there are plenty of gluten free cake offerings on the market, but these are special, and I'd love them to 'take', and be a success. They could be offered to non-GF eaters, and they wouldn't know… However, I haven't spotted them anywhere in the wild yet, and I have looked.
Round here, there are a range of supermarkets: Tesco, Sainsbury, Morrisons, Co-Op and Aldi. Yet I haven't seen these fab new products anywhere. I've looked on the Warburtons stockist locator, and despite there being plenty of places apparently stocking the bread products—including the community shop 3 miles away— there's no listing of muffins near me.
I think I must live in a Warburtons Muffin desert, despite being a northerner! I'm going to have to make a nuisance of myself at the supermarket Customer Services again…
Have you seen them? When you do, buy a pack—they come in packs of two—and let me know what you think.
| | | |
| --- | --- | --- |
| | | I've written a book summarising what we've learnt over 20 years of dealing with the gluten free diet, and it might be just what you're looking for. It packs the lessons we've learned into what I hope is a helpful and straightforward guidebook. It's available on Amazon, as a paperback or for your Kindle… |